Hi Everyone, What a delicious and adventurous year this has been! Each month brought a first – first time to try an ingredient, first time to eat a new dish, first time to make a favourite and yes, even a first time to taste the familiar in unfamiliar ways. It was a fabulous year to expand my palate.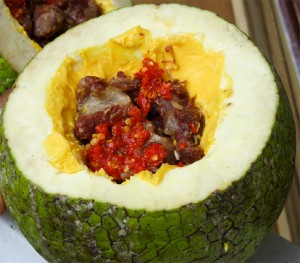 January burst on to the scene in a fiery way with the introduction of curd chillies (pepper cured in yogurt and salt and then dried). I love these chillies so much that I am now addicted to them and I'm constantly harassing "my handler" in the United States for some. I use it sparingly, stretching it until my new stash arrives.
Not to be outdone in January was the golden-apple (June Plum) – I experimented by making a crumble with it. The tasters gave this dish two thumbs up.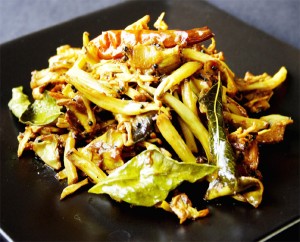 I made a new friend who shared her recipe for Chinese Cake and in February, I set about making them. It was a lot of work but definitely a labour or love. While I had eaten more than my fair share of Chinese Cakes, I'd never made them. Thanks again Nora!
March saw me showing and sharing with you some of the things I had learnt to make from other cooks. Coconut-Cilantro Rice has now become one of my go-to rice dishes when I want to wow people with unexpected flavours. My leftovers from roasts will never be surrendered exclusively to stock anymore because I know how to make Congee (a savoury Chinese porridge). Plantains I love, especially green plantains so I am not sure why it took me so long to make tostones.
Inspired by memories of then Sacred Heart tea parties, in April, I set about baking some of the treats one would enjoy at such an outing – cheese scones, quiches and cheese straws.
Having eaten chicken livers and gizzards only one way, bounjal (dry-curried) I was intrigued that in Barbados, they were breaded, fried and sold as a street snack that would be sold out in no time. Armed with a recipe and the tip of letting the breaded items rest for a while before frying, I merrily fried in May.
Kohlrabi, leafy, bulbous and attractive in purple and light green got me all excited when I first saw them at the annual Agricultural Fair in Barbados. Unfortunately, I had to wait for the new crop before I could try this vegetable. I was rewarded in May and set about cooking and tasting this member of the wild cabbage group.
Making my own crusty, crunchy version of a long-time style of fried chicken in Guyana – Chicken-in-de-ruff turned out to be one of the most requested recipes, also in May.
By mid-year, the bug to try new things bit really hard and week after week I experimented. First there was the making of the chow fun noodles and then using them in the beef chow fun dish. The noodles turned out average, they were very far from being perfect or "the real thing"; more practice there is definitely needed. Making the beef chow fun dish itself however was as simple as putting together a stir-fry.
Undaunted by the "not-ready" chow fun noodles, I ploughed on in June by taking Barbados' national fish, flying fish, fire-roasting it and making a choka. I didn't particularly like the choka with the fish fire-roasted but lightly seasoned, pan fried and then mashed to make a choka was much more appealing to me.
Still in June, I was writing a column about one of my favourite herbs, green onions, and looking for dishes to make that would compliment this herb. I found many recipes for the Chinese green onion pancake that requires you to pan fry. I liked the idea of the pancakes but not the frying bit and so I decided to make my own kind of paratha and made a green onion paratha.
In July, one of my tasters was leaving and so I wanted to say thanks by offering to make some of her favourite dishes and teasing her with a taste that she would reacquaint herself with in her new home. I made for the first time, Pierogi, a stuffed dumpling that is especially popular in Eastern Europe.
When August rolled around I was thrilled to be cooking outdoors in the most rustic of ways – no grills, no charcoal just lots of sticks, newspapers and a few bricks to steady things. At last, I learned how to roast a breadfruit the Bajan way, stuffed and fire-roasted!
A plate of Dirty Rice had been on my mind for a very long time. I mean come on, it was rice cooked with minced chicken livers and gizzards, all favourites of mine. However, like the tostones, I don't know what took me so long. Given that the semester was about to start, I figured that if I did not make the Dirty Rice in September it would be a while before I tried.
Oh sweet Callaloo! How I longed to make and eat this Trini all-time favourite. When my friend Gillian brought me the eddo/dasheen/taro-leaf spinach, I immediately went in search of crab to make Callaloo. October already tasted good, but there were more to come.
Discovering a fanciful way to cook salt fish and an even fancier name for the dish, Brandade de Morue, was a delight to share with you. I know that many of us get stuck buying the same ingredients every time we go grocery shopping, so this was a very worthwhile discovery.
The most intriguing ingredient to cook this year was most definitely the Banana Blossoms. Just finding out that this part of the banana plant was edible was a surprise. It's an acquired taste for sure but something I'll definitely cook and eat again.
November saw the oven being fired up again, this time, making a bun that is very popular in Antigua & Barbuda, the Raisin Bun.
Looking for something outstanding to have with some fig jam I received all the way from Switzerland, led to me making buttermilk biscuits for the first time. They were soft, hot and fluffy.
December crept up on me, as I am sure it did on you. Given that the holidays were approaching and the supermarkets here in Barbados were stocked with seasonal items such as guinea con flour, I knew I had to try making one of Barbados' holiday favourites, Jug-Jug.
One of my missions with this column is to expand my palate and hopefully encourage you to do the same. It's amazing the variety of ingredients we have here that we have only used in a particular way. There are many, many more ingredients and dishes that are new to us, waiting to be discovered yielding tastes and flavours that we would enjoy. As we embark upon a new year with economies in crisis the world over and food prices among other things spiralling out of control, let's all cook at home more often. Amazing discoveries await – we'll save some money, discover some new flavours, and create bonds with our families and friends.
Here's my wish that 2009 will be our tastiest year ever!
Happy New Year!
Cynthia
tasteslikehome@gmail.com
www.tasteslikehome.org
Around the Web