New Toshaos council elected
The Government Information Agency last night reported that twenty leaders from the various regions were elected before Amerindian Affairs Minister, Pauline Sukhai, to serve on the National Toshaos Council (NTC).
This was on day two of the National Toshaos Conference at the Guyana Inter-national Conference Centre.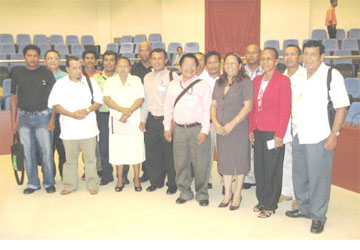 Those elected are as follows:
Region
One        Ernest Samuels
Bernard Laud,
Herbie Campbell
Two        David Wilson
Yvonne Pearson
Three        Reynold Samuels
Four        Ernest Dundas
Five        Derrick John
Six         Mc Lean De Vair
Seven        John Andries
Dhaness Larson,
Christopher Edwards
Eight        Julie Johnson
Maxwell Peters
William Peters
Nine         Michael Williams
Wilson Laurentino
Hidebrand James
Ten        Lester Fleming
Herman Williams
The newly elected council was urged to work in partnership even though finance is limited in some areas, GINA said.  The Ministry of Amerindian Affairs will provide the council with some financial aid until it becomes an independent organisation.