A 16–year-old girl last evening took her own life by pulling the trigger of her father's licensed firearm close to her heart.
When this newspaper arrived at the Lot 319, Republic Park, Peter's Hall residence of Lisa Prashad, a student of a private city school, police officers were conducting investigations into the incident. The girl's parents operate the Linco's variety store on Regent Street.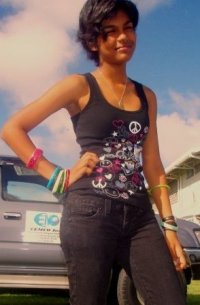 The girl's uncle told Stabroek News  last evening that shortly after 6:30 pm, the teen picked up her father's .32 calibre licensed firearm, placed the barrel of the weapon to her chest and pulled the trigger; she died instantly. He said from what he was told, the girl's father was in the bathroom at the time while her mother was in the kitchen preparing dinner. The man said that his niece was not known to have suicidal tendencies and as such he was baffled as to why the young woman would take her own life.
According to a neighbour, she observed the young woman arriving home from school early yesterday afternoon in the company of her parents. She said as she prepared to watch a 6:30 newscast she heard what sounded like a gunshot and she immediately became alarmed. The woman said that she was still in shock since the sound of the gunshot which took the girl's life left her feeling numb. She said Lisa was a very quiet person who was well loved in the neighbourhood.
Other neighbours who gathered at the scene reportedly heard the gunshot which ended the teen's life and they related that the child's mother was seen soon after rushing out of the street with the body of the girl in her car. Residents noted that there is a need for counselling of the child's colleagues at school as well as her friends in the neighbourhood.
According to reports the young woman was a friend of Aliya Bulkan, the young woman who plunged off the Kaieteur Falls last Saturday. Prashad reportedly attended a wake for Bulkan on Tuesday night.
Most Read This Week