– 2,600 state-of-the-art homes for Friendship Mews, Sara Johanna Gardens

Two ultra-modern, gated communities being set up on the East Bank Demerara and slated for completion in three years' time will boost local housing with the addition of 2,600 more homes.
The two housing developments at Sara Johanna and Friendship are a project of Umana Developments Company and are being plugged as a first in housing development in Guyana.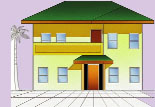 Sara Johanna Gardens will be built on some 100 acres of land to accommodate 600 homes, while the Friendship community will sit on 200 acres of land and will have 2,000 homes.
In an interview with Stabroek News, CEO of Umana Developments, Fazil Armzan, disclosed that a 4,000 by 200-ft man-made lake will be the standout point of the community at Friendship which is dubbed Friendship Mews –'Life at the lake.'
The lake will be at the centre of the community and will consist of marinas and boardwalks at both ends. The marinas will have paddle boats for rental and an island will be at the centre of the lake where a few villas and other types of houses will be situated. Waterfront stores and restaurants are to complete the scene at the lake.




While there will be no lake at Sara Johanna, the two communities will be similar in terms of the state-of-the-art quality of the homes, except that the architectural theme for Friendship will be Mediterranean, while Sara Johanna will have a Victorian theme. The communities will include shopping centres, supermarkets, day-care centres, libraries, ATM machines for major banks, private schools, a shuttle bus services, playfields and other recreational venues.
Armzan said that the idea is to create a community where almost every commodity and service one needs for everyday life is provided; so that residents would not have to travel miles to the city when they need a simple service.
Armzan said surveys were done to assess the purchasing power of Guyanese during the research stage of the project. He said the working class, which includes public servants, would be able to own homes in either of the two communities; with Sara Johanna being on the lower scale. The cheapest house there will cost $4.6 million while the cheapest house at Friendship will cost $9 million; the prices are already inclusive of VAT.




Umana Development Company will provide assistance in acquiring loans, which are available from the New Building Society (NBS) and Scotia Bank at payback rates of 7.6 per cent per annum. Insurance is to be provided by Apex Insurance Company.
The first occupancy for Sara Johanna Gardens which is located some seven miles from Georgetown is expected in May this year. While first occupancy in Friendship Mews located about 12 miles from the city is expected in June.
Armzan was keen to point out the many reasons why persons should grab this offer before it's too late, which will not be long now, given that many persons–particularly a strong overseas clientele–are buying into the deal.
Affordability is a big part of the offer, but that is not the sole reason why someone should be interested. The communities will be situated on the East Bank Demerara, far away from the flood-prone city and East Coast. Security is to be top class for the gated communities with the monitoring system to be entirely electrical in nature. Skilled technicians are to be brought into the country to deal with plumbing and electrical wiring which are to be of American standards. Armzan related that new techniques in construction are to be utilized in the building of the homes, which means that part of the workforce will come from overseas.
One of the special features which the houses will have is rubber sealed garages.
Special emphasis is to be placed on the management of waste in both communities. There will be a blue box system for biodegradable waste, which will be channelled into compost. Other materials such as plastics will be stored separately and will be picked up by an organized service.
Meanwhile there are two certificates of warranty attached to the purchase of the homes. The first, a one-year warranty states that any service such as plumbing or wiring that is damaged within one year will be fixed for free. The second warranty is a five-year one which guarantees that any structural problems such as roofing, will be fixed for free if damaged within five years.
Sara Johanna should be completed in two years while Friendship Mews is expected to be completed in three years.


Around the Web