Local distributors also setting up outlets in Suriname, T&T
A new multi-million dollar shopping mall is to be built in Georgetown later this year to serve exclusively as a distribution outlet for the internationally famous Hanes line of apparel.
Ron Morrison, Chairman and Chief Executive Officer of Mori J'Von, the sole distributor for the Hanes line in the Caribbean told Stabroek Business that "negotiations are in an advanced stage" in relation to a site for the new mall" and that these could be concluded early this year. "We intend to proceed with the construction phase of the mall immediately upon conclusion of the current negotiations and we expect that the construction phase will be completed this year."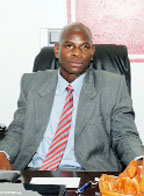 The local Hanes distributor secured the Hanes contract in 2005 and currently operates from the premises on the New Courtyard on Robb Street. Morrison told Stabroek Business that the decision   to establish the new facility was part of his company's initiative to further popularize the Hanes Brand in Guyana and to create space for the importation of a wider range of Hanes products into Guyana.
Meanwhile, Mori J'Von will be seeking to further consolidate its distributorship of Hanes apparel in the region through a new wholesale facility in Suriname and a retail outlet in Trinidad and Tobago. Morrison said that the new Suriname wholesale outlet will be "up and running" by the end of January while the Trinidad and Tobago facility will be opened by mid-year.
Morrison told Stabroek Business that the establishment of the new mall in Georgetown was intended to signal to local consumers Mori J'Von's commitment to making available the best possible brand of both male and female apparel. "What we are doing is responding to what we believe is a mature and discerning market in Guyana. He said that the company's medium term plans included the setting up of other Hanes retail outlets across the country but that those would have to await the full establishment of the mall.
"At the moment there are shops in Bartica, Lethem, Linden and Berbice that stock our brand but our aim is to create an even higher level of recognition for our brand across Guyana," Morrison said.
According to Morrison there are "tough challenges" associated with the marketing of a high quality line of apparel in Guyana. "What has made us successful is the fact that we are aggressive in the marketing of our products and the fact that we have been able to persuade our customers that good quality does not necessarily have to transform into high prices.
Morrison said that the prices for Hanes products had remained at last year's levels and had remained unaffected by both the various bouts of rising consumer prices which Guyana had experienced last year as well as those price hikes resulting from the current global economic crisis.
Around the Web