Entertainment and other promoters seeking DIGICEL  funding  have been put on notice that the company will now be  demanding more than just undertakings regarding the promotion of its brand in exchange for sponsorship.
"Our launch attitude was one of just getting the brand out there quickly. Everyone now knows the DIGICEL brand. We are now looking much more at what we are getting out of spending money out there," DIGICEL Chief Executive Officer Gregory Dean told Stabroek Business recently.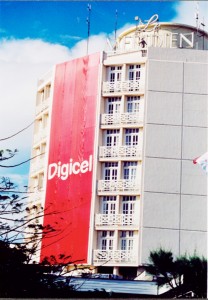 And according to Dean the shift in the company's approach to financing promotions "is a challenge both for us and for promoters and people who want to work with us." He said that the company will  now be seeking  "something different" from the customary promise to put DIGICEL "up on the stage or at the entrance."
Dean said that DIGICEL was now challenging itself to find new ways of connecting with customers and that at the same time the company was challenging promoters to bring new ideas for working with DIGICEL.  Dean said that the company would be interested in promotion ideas that had a bearing on new markets or on ways "that sought "to connect more with the community."
Despite the pronouncement that DIGICEL will now be adopting a more studied approach to sponsorship requests Dean told Stabroek Business that the company continued to recognize the "youth segment" of the population as its "key market." Accordingly, he said that DIGICEL will continue to reach out to that segment of the population, wherever they are. "We will continue to place emphasis on promotions," he added.
Stabroek Business has learnt that DIGICEL has considerably scaled down its sponsorship for this year's  Mashramani celebrations, opting not to emulate its previous heavy spending  on the Mash Day street celebrations which, over the past two years, has included sponsorship of  a band and a contingent of costumed revelers.  Asked if the decision to scale down its Mash sponsorship this year was a financial one Dean said that that was not the case. He said that the company had run out of time to plan and execute its Mash 2009 programme which had envisaged more than just a single Mash Day event adding that preparations for the 2010 event could begin as early as November this year.
And in the wake of news that DIGICEL had scaled down its contribution to this year's Mashramani celebrations, a Ministry of Culture release was issued last week informing the public  that no permission had been granted for the use of the National Park to stage an advertised  Kashif and Shanghai organization-promoted, DIGICEL-backed Mash Jump Off concert at the National Park tomorrow evening. When contacted Kashif and Shanghai officials moved to douse speculation that the sudden Ministry of Culture announcement may have been connected to DIGICEL's scaled down participation in the Mash celebrations, citing "irreversible venue-related difficulties" as the reason for the cancellation of the event.
Dean told Stabroek Business that the company's commitment to supporting the country's republic anniversary celebrations remained undiminished and that this year's difficulties meant that DIGICEL would have to make plans for its Mashramani participation much earlier in the future.
Meanwhile, according to the DIGICEL CEO, the company will now be paying more attention to its "longer term commitment" to the local charities that it supports. He said that the company was now seeking to go beyond simply making material contributions to those charities and will be focusing on all-year-round relationships that would embrace closer relations between DIGICEL staff and those charities. "Essentially, we are going to do the same thing as that we have been doing all along but we are going to try to do them differently," Dean said.
Around the Web