The Georgetown Chamber of Commerce and Industry (GCCI) and the United States Embassy in Georgetown are collaborating on an initiative aimed at building capacity among local cash crop farmers in order to maximize their overseas earning potential.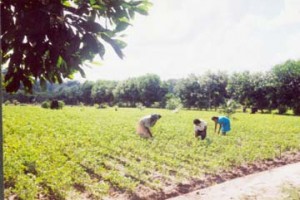 The initiative, also seeks to significantly increase acreage of cash crops under cultivation and to create more structured and reliable overseas marketing mechanisms.
Georgetown Chamber of Commerce President, Chandradat Chintamani    told Stabroek Business that despite the prevailing global economic crisis "there are still markets for food in the United States.  If we can secure 2 per cent of that market we would be hard-pressed to find the acreage here to produce for that market," Chintamani said.
"We have spoken with the United States Embassy here and we have actually received confirmation that we will be given some specialists who will be working with small farmers to begin to build capacity.
These specialists will be looking at issues like marketing, financing, quality control and identifying organizations in the United States to which we can link businesses in Guyana. These are organizations which we hope will help to provide markets for farm goods produced locally.
The first phase of the project which is expected to begin in a few months will see visiting agricultural and other experts working with local cash crop farmers to help build capacity. "The next phase will be to seek to secure the markets for the produce and that phase will involve the partnership arrangement between the farmers and the firms in the US.
Chintamani told Stabroek Business that the objective behind the project was to create "cycles of business" for local farmers by helping them to secure large and long-term markets for their products in the US.
According to Chintamani, the United States Embassy in Georgetown has recognized the opportunities that inhere in this project and has indicated a willingness to work with the GCCI to bring it to fruition. He said that traditionally, farmers have lacked the knowledge as to how to expand and render their operations more efficient. "What we are doing is seeking to create an opportunity that will help us to expand that process."
And according to Chintamani while the objective of the project was to expose the huge potential for maximizing the earnings of local cash crop farmers, the process was intended to be an incremental one. "This is a gradual process. We are seeking to create a process that we can maintain and expand so that it has the effect of adding value, generating employment and creating wealth in the economy."
And in a thinly veiled reference to the dangers associated with what has now become the prevalent practice of concealing illegal drugs in agricultural and manufactured products Chintamani said that he was "hoping and trusting my instincts that no one is going to get into this cycle of trying to make huge sums of money in one transaction and get into illegal business."
Meanwhile, according to Chintamani maximizing the country's agricultural potential also involves the creation of stronger linkages between the manufacturing and agricultural sectors.
He said that the potential of the sector can only be fully realized if production levels move beyond   the local market and take account of the broader overseas demand. "If we can take our cash crops and focus on its niche potential then I am sure it will succeed."
Around the Web