Union wants answers
Acting General Secretary of the Guyana Trades Union Congress, Norris Witter has told Stabroek Business that Tuesday's announcement regarding the liquidation of CLICO (Bahamas) "raises entirely valid questions about the state of health of the CLICO (Guyana) operations" and demands that the local company now make a "full and detailed disclosure" regarding the state of its finances in order to allay the concerns of investors in the company.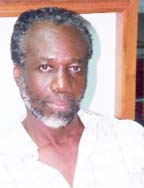 And according to the senior trade unionist a point has now been reached where "the government itself should begin to demand of the company that it move immediately to satisfy the concerns of investors. "CLICO has been far too silent on a matter that has implications for the savings and investments of thousands of Guyanese and perhaps for the economy as a whole," Witter told Stabroek Business.
Witter, who is also President of the General Workers Union, the bargaining agent for employees of Banks DIH Ltd, told this newspaper that the Union was giving Banks DIH up to the end of this week to answer questions which it had raised about the pension funds for 1300 Banks DIH employees failing which the union would move for the withdrawal of the funds from CLICO. Witter said that the union had sought a meeting with the management of Banks two weeks ago to seek information on the status of the workers' pension funds but had been told that such a meeting had to await receipt of information which Banks had requested of CLICO. "The problem here is that there are hundreds of anxious workers who have no knowledge of what is happening. CLICO's caginess on the question of disclosure is unacceptable and I believe that at this stage the government should send them the strongest possible signals on the matter.
Meanwhile, Witter told Stabroek Business that the government should also publicly demonstrate similar concern over what he described as "the broader implications of the possible vulnerabilities of CLICO" for the country as a whole. "One of the labour movement's immediate concerns is with the fact that there are more than 60,000 CLICO policy holders in Guyana. In addition to this we are told that the National Insurance Scheme has investments totaling billions of dollars with CLICO.  This is actually quite serious since, assuming that CLICO is in financial trouble there is every likelihood that this might have a knock-on effect on the NIS and on the financial fortunes of the various pension holders, many of whom have no other source of income.  Meanwhile, the acting TUC General Secretary said that the liquidation order issued in respect of CLICO (Bahamas) "ought surely to ring alarm bells here in Guyana since, as far as I am told CLICO (Guyana) has millions invested in the Bahamas.
Witter told Stabroek Business that he felt that "whatever the truth, there is now sufficient reason for concern about CLICO (Guyana) and that "the wall of less than full disclosure" which the company had set up had "created all the more reason for public suspicion about the state of its financial health."
Around the Web