The word on the streets, among the currency traders is that "salt ain't runnin." It's a slang that the traders have cultivated to describe the really bad days that have become a pattern in the slowdown in currency-changing transactions, another barometer by which remittance flows to Guyana are measured.   The licensed cambios may be tight-lipped about what is rumoured to be a large drop in remittance flows from the United States but the traders talk freely and the word is that there is less money on the streets these days.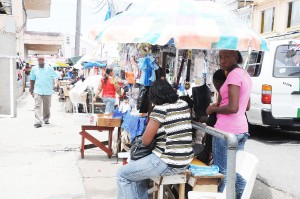 This is where you get a sense of the street hustle that forms part of an economy that is bracing itself for tougher times and the people who make their living here find themselves, uncharacteristically,  drawn into the national discourse  on the economy.
The scores of traders offering clothing for sale from an assortment of makeshift racks encumbering the pavement are among the hardest hit by the creeping crisis. These days, they say, they worry less about the City Council and more about how to eke out a living. The municipality, it appears has adopted a sense of tolerance that reflects an understanding of the times.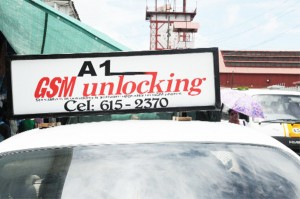 A few of the traders gathered at the western extreme of the back, close to Water Street talk eagerly. What they tell us amounts to a story of declining patronage and talk of seeking options elsewhere.   One of them, an itinerant trader, who operates a handcart that  stocks everything from shoelaces to shirts, worries about the steady increase in prices imposed by his wholesale suppliers. Mark, – the name that we agreed we would give him for the purpose of this story –  has been vending for the past two years. He told us that he used to  "work gold" but that he had fallen ill with malaria. He had been able to fall back on some connections in downtown Georgetown and had been given a start on the street by a wholesaler who also owns a dredge in a mining area close to where he had worked.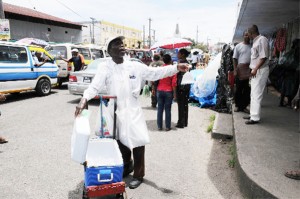 Mark, like many of the other traders in the America Street 'labyrinth' has benefited from a  micro loan, an unofficial one that is, from an established downtown businessman. He told us that credit is available to the street vendors – as much as around $100,000.00, depending on your standing with your creditor. The loans are disbursed by the lenders, usually wholesalers, in stock from their shops and the vendors sell the goods and repay the wholesalers – with interest – over agreed periods. Depending on the level of trust between the two and the length of time over which the relationship has been established, the vendor may be asked to deposit some item of value as surety,  perhaps a television set or pieces of jewellery.  Sometimes the whole understanding is based on trust.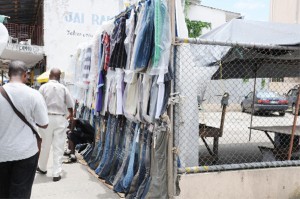 Mark told us that since late last year both the prices and the interest rates had  increased and that the "idle down" in trading meant that the repayment period was longer.
In this business the profit margins are wafer thin. Here, there is little room for accumulating any real savings. Sometimes, the day's takings are just enough to provide for the day's meals. Mark has three school-aged children and he admits that he is worried.
On the labyrinth of pavements comprising the block, vendors are offering a bewildering array of services. The barbers and hair dressers dwell cheek by jowl with the food vendors and the service providers in the cellular service sector. You can buy either cell phone cards or top ups from vendors seated behind tiny desks with only a telephone on it. Around the corner, a man in a car marked GSM Unlocking was using a computer to unlock phones that had not been calibrated to work in Guyana. Nearby people were congregating around yet another cellular service, one that allowed you to make cell calls around the town,
A hairdresser, a girl who appeared to have left school far too early was attending to a customer. She was on the verge of completing an elegant-looking corn row hairstyle and two other customers were awaiting their turn. She agreed to talk but forbade us to take her picture. The people who work these streets prefer to do so in anonymity.
She told us that she used to work for a hairdressing establishment but that "the money was too small." She had considered a partnership with a relative in an establishment of their own but another relative overseas who had agreed to help finance the business had pulled out recently. She could not say whether, perhaps, that relative may have been caught up in the financial crisis currently afflicting millions of people in the United States.
Most of the girl-hairdresser's clients are working women and she told us that since February  she had been forced to reduce her prices to "suit their pockets." Our hairdresser friend is one of the thousands of single parents across the country who worry about their children's future.
While we were talking to the hairdresser a middle-aged man pushing a handcart was listening in. He intruded to ask whether what we were doing was "for the news" and after we affirmed that that was the case he said that he "had "a point to make," agreeing at the same time to have his photograph taken with his handcart. He was selling drinking water in plastic bags and his handcart, packed with crushed ice, was serving as a cooler. He told us that he is "a carpenter by trade" but that since the middle of last year he could not get "steady work." He had joined his son on the streets selling drinking water and his only assessment of what he was doing was that "it would have to do for the time being."
The carpenter-turned–water vendor wanted to make the point that more could be done to train young men leaving school in technical and vocational skills He wanted to know what the Technical Institute was doing and whether the kind of training that the Institute had been set up to offer was not supposed to keep young men from entering the vending trade where, he said, "there is nothing for them.".
Earlier, when we had arrived in the cauldron that houses the East Coast car park a handful of taxi drivers were engaged in animated discourse, with each of them, it appeared, seeking to impose on the others his particular interpretation of the term "meltdown," the favoured  expression for the dramatic collapse of the United States' housing and credit markets. If none of them was particularly precise in their respective interpretations of the term, the nature of the discourse – for taxi drivers, that is – appeared more than a trifle unusual. There is no mistaking the fact that ordinary Guyanese share a sense that  whatever meltdown means, its implications bode ill for the economy of the streets.
The traders in downtown Georgetown, the countless small businesses whose services include anything from a simple haircut to cambio services have concerns about the country's economic crisis that are no less valid than those that are being articulated by politicians and by mainstream business. A woman who was offering creole food from a huge pot perched atop a table told us that both her sons had lost their jobs recently. She was concerned that the older one, who worked in the mining sector up to around the middle of January was becoming depressed. Depression, and worse, may well afflict the hundreds of people who are likely to lose their jobs this year. The vendor lives in Buxton and for the time being at least she is helping to support her sons' five children.
One of the food vendor's customers who was listening in keenly asked us what we thought would eventually become of what she described as "this CLICO stupidness." When we drew her attention to what President Bharrat Jagdeo has been saying, the assurances that he has been offering, she asked whether we believed him. We said that we felt we had to take him at his word since he was the President and she frowned on our response but said nothing. She was, she said, a CLICO policy holder and so was her brother and his children and while she did not appear as concerned as some of the businesses with CLICO pension schemes she wondered aloud as to why "poor people" were invariably made to suffer most in scams of this kind.
Across Water Street, in the Vendors' Arcade the pace of work on the rebuilding of the stalls that were dismantled some time ago has slowed. The vendors show up at the site every day to sell their goods on the pavement where the City Council has granted them temporary permission to sell. Some of the vendors say that the decline in patronage has raised doubts in their minds as to whether they should persist with their investments in the stalls. One of the vendors said that she was thinking of "getting out of the business altogether" and starting a snackette business with her daughter-in-law. She said that she had been vending on the pavement "for years" and that she was disappointed that she might have to let go of the best opportunity that had ever come her way.
There is, it seems, a sense of quiet resignation on the streets to an impending economic squeeze that has already begun to manifest itself in higher prices, and reduced patronage and dwindling profit margins; and in a fringe economy where there is no cushion, no breathing space, where today's takings buy tomorrow's food, there is no room for even a bad day, far less a long difficult period.
Around the Web