The Roraima Group of Companies is using its most recent acquisition, the Roraima Duke Lodge to stage the country's first ever "Wedding Expo" and the company's Chief Executive Officer Captain Gerry Gouveia told Stabroek Business that apart from the role that the event will play in helping to popularize Roraima's recent multi-million dollar acquisition, its "other major significance" is that it will enable the marketing a of number of small and medium-sized businesses  in the wedding and entertainment sectors.
"Quite apart from the fact that the Wedding Expo is a business initiative on the part of the Roraima Group, it is also a timely event insofar as it comes at a time when smaller businesses are seeking opportunity to aggressively market their businesses in what is a difficult economic climate."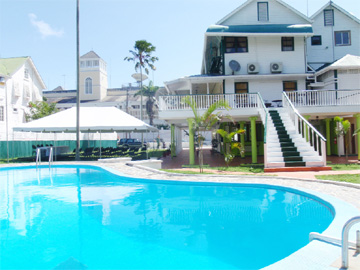 According to Gouveia, the local Wedding Expo which opens later today and ends on Sunday, coincides with a similar show in Trinidad and Tobago. He said that the idea of staging the event arose out of a proposal made to him by a senior manager of the company who had been sent to Jamaica on a training programme.
Businesses in several wedding-related sectors including event planning, catering, entertainment, transportation and clothing are expected to have information and demonstration booths at the Roraima Duke Lodge over the weekend and Gouveia said that the decision to have couples contemplating marriage and members of the public as a whole attend the event free of cost was designed to popularize an initiative that brings large numbers of customers and clients together in an environment that could generate mutually beneficial business transactions. He said that the event was an achievement "as much for Guyana as for the Roraima Group" since it introduces Guyanese to services in the wedding sector that are already in place elsewhere in the Caribbean. He said he believed that the Roraima Duke Lodge was an ideal location for such an event since its size and ambience meant that it could provide a convivial environment "without swallowing up" what is intended to be an intimate event.
Gouveia, who is also Chairman of the Private Sector Commission (PSC) said that he was pleased that his own company was associated with a business initiative that could "embrace other business houses, particularly small ones" in a venture that could redound to their economic gain. "I believe that this is just the kind of initiative that the local private sector would wish to be associated with since it fits in with the concept of supporting the growth of sectors across the spectrum of the business community. The fact that this is happening at a time when the PSC is promoting the concept of the business community supporting its various sectors at a time of economic difficulties makes the event all the more significant."
Gouveia said that while the Roraima Group was claiming  no credit :for inventing the idea of a Wedding Expo" he believed that the event was an example of the kinds of innovations that are likely to emerge from the business community as a whole in response to the current challenges facing conventional approaches to business. "The private sector has been continually urging businesses to seek to think outside of the box during the current economic squeeze. What this means is that businesses will have to rely much more on the ingenuity and creativity of their staff. In fact, it could well mean that by the time this crisis comes to an end we can emerge from it with a new, more valuable business culture."
Around the Web