Finding a niche in a harsh economic climate
A young University of Guyana graduate  is confronting the tough times facing his depressed community by exploiting an unlikely service niche in his local market. James Cupertano is providing laundry services to households in the mining community of Linden and from all accounts the business is holding its own.

The idea of doing the laundry for Linden occurred to James during a visit to the United States, There he observed that the laundry industry was primarily service- oriented and that large numbers of people relied on the Laundromat to have their clothing done.
Three years ago, in 2006, following his retrenchment from the then Linmine, and left with no employment  opportunities he invested part of his redundancy package in  Mesino's Laundromat, situated in Greenheart Street, Mackenzie.
The International Relations and Management graduate conceded that he never had seriously considered self-employment as an option. It was, he says, a matter of having of been left with little choice.
Cuperteno has invested almost $500,000 in infrastructure, that is, physical rehabilitation of the premises and the installation of electrical fittings.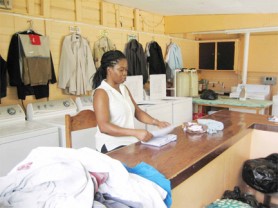 His own funds exhausted he approached the Institute of Private3 Enterprise Development (IPED) to secure a loan of one million dollars through its Youth Business Trust. His management skills would have proved handy in the preparation of the detailed business plan necessary to enable his lenders to determine the viability of the project. James secured the loan and used the funds to purchase the equipment necessary to operate the Laundromat. And during our interview James took time out to sing the praises of IPED. He had earlier sought funding from the Linden Economic Advancement Programme but no loans were being disbursed at that time. With no credit history with which to approach a commercial bank, IPED was his only option.
Situated in front the Mackenzie Sports Club Swimming Pool, Mesino Laundromat has more than proven its worth to households in Linden. His machine-based operation is ahead of the game, the only competition being a handful of bottom house press and starch micro businesses.
James believes that the service which he offers could benefit significantly from the patronage of overseas visitors to Linden. They are, he says, accustomed to this kind of service.   Accustomed to similar services. He is mindful about quality, aware as he is of what obtains in markets in the United States and elsewhere. Aware of the liquidity challenge confronting residents of his community, James is mindful of the importance of keeping costs down. "The main attraction are price and quality," he says. The cost of washing and drying a 'load' of clothing is $1000. That is where it was when  the business began operating. The service allows for dropping off and, the job completed, picking up.
James says that demand is impacted by major events in the mining town…….like the annual year-end Kashif &Shanghai Football Tournament and Linden Town Week.
The venture is by no means without its challenges. James says that that while he has not so far been confronted with any insurmountable problems there are concerns over the likelihood of an increase in electricity rates. If that happens his own prices could increase.  He is also concerned about the quality of the water being provided to the community. He says that this, coupled with unreliable supply has forced him to resort to private water suppliers, some times, to filtration.
James, however, remains optimistic. He says that as his client base increases he plans both further modernization and expansion.
Since the launch of the service James has already increased the number of dryers from two to five and the washers from three to  six. He is also contemplating from the addition of  'press and starch,' dry cleaning and self-service facilities.
James says that he would wish to see more Lindeners who are University graduates  seeking to create employment for themselves instead of 'sitting back and waiting for something to happen'.