Customer Service Training Consultant Joyce Sinclair has told Stabroek Business that the continually declining standards of customer service that obtains in Guyana  is, in large measure, a function of a culture of consumer indifference to the quality of service that they receive.
"As a nation we have grown accustomed to indiscipline and unfortunately that indiscipline is evident in the service sector. There are few good examples of high-quality customer service from which we can take pattern. Unfortunately, it seems that people are content with mediocrity and focus of acquiring the goods and services that they need more cheaply, regardless of the quality of the service. Other people take a position which says that 'we can't change anything', so they either walk away or accept whatever service they receive," Sinclair told Stabroek Business.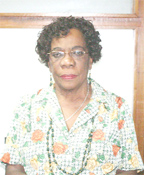 And the retired senior public servant says that raising standards of customer service in the business sector depends on a greatly enhanced awareness on the part of business owners of the importance of high-quality customer service to the success of their enterprises. "Unfortunately, whenever businesses find themselves in a financial bind, training is usually the first thing to go and that often means that customer service training is sacrificed. Some of this has to do with a feeling on the part of business owners that the training does not matter because the customers don't care," Sinclair said.
Sinclair, who as permanent secretary in the Public Service Ministry once held responsibility for the training of public service inductees, as well as the administration of overseas government scholarships told Stabroek Business that changing the culture of customer service in Guyana must begin with "creating an awareness among the business owners themselves of the various ways in which customer care adds value to their businesses."
Sinclair told Stabroek Business that such investment in customer service training for employees is invariably a wasted investment in circumstances where business owners themselves are not sensitized to the importance of customer care. "We have a number of cases in the business community in which some progressive businessmen find themselves at the head of businesses without necessarily being properly trained in some of the disciplines that go with business leadership. Customer service training is one of those disciplines. Apart from employee training, customer training also needs to target people in positions of authority – managers. That way they can ensure the effective implementation of high-quality customer care. "  And the former public sector training administrator told Stabroek Business she believed that the various private sector umbrella bodies, including the Private Sector Commission (PSC) and the Georgetown Chamber of Commerce and Industry (GCCI) need to take greater responsibility for raising standards of customer service in the commercial sector. She recalled an engagement with local business owners at a forum facilitated by the PSC during which she said participants expressed an appreciation of the importance of customer care but had done little since then to take advantage of the training opportunities that are available. "Unfortunately, there has been very little engagement by the private sector since that time," she added.
Sinclair, author of an instructional publication titled High Quality Customer told Stabroek Business that one of the most disturbing trends in the downward drift in standards of customer care was a tendency towards patterns of dress that are inconsistent with the creation of an image of high-quality customer service. "The drift towards inappropriate patterns of dress obtains in areas of service provision in the private sector as well as in our public offices. What is disturbing is that the people in positions of authority do not see it fit to seek to correct this problem."
Meanwhile, Sinclair told Stabroek Business that she did not share the view expressed by some members of the business community that the poor quality of staff available at the lower levels of the commercial sector made training difficult. "I certainly do not share that view.  Part of the problem lies, perhaps, in the level at which we are pitching the training. Customer service workshops have to be tailored to meet the standard of the people who are being trained. What is important is that you get the information across. The challenge lies in finding ways of doing so that will enable the trainees to receive the messages. Personally, I have had some very good results from such training situations." 
Meanwhile Sinclair has lauded the efforts of "some nurses at the Georgetown Public Hospital Corporation whom she says, are providing "the high quality of service which the organisation needs them to provide, sometimes without getting the recognition that is merited. They are doing it purely for the love of giving service."
Sinclair told Stabroek Business that she accepts that there are many instances in which a high quality of customer service is expected of employees who benefit from insufficient remuneration but says that poor pay is not the only reason for declining standards of customer service. "It is entirely possible to have a high level of commitment to giving service among people who are not paid salaries and an indifference to good customer service among highly paid people. Some of this has to do with the work environment. Of course people want to earn well. Some employers will give any number of reasons why they cannot pay better salaries. On the other hand, the working environment is about much more than a high salary. Many service sector workers are just there as bodies. No one communicates with them and they play no real role within the organisation. Part of the process of motivating people to give of their best has to do with creating a genuine place for them within the organisation."
And according to Sinclair, concepts like mission statements and core values have now become meaningless catchphrases in many organisations. "Not a great deal is done in many organizations to cause employees to understand the real meaning of these mission statements and their own particular roles in ensuring the accomplishments of the goals of the organisations," Sinclair added.
Around the Web