Puerto Ordaz is a planned city which, together with the older settlement of San Felix, forms Ciudad Guayana in Bolivar State, Eastern Venezuela. Located on the confluence of the Caroni and Orinoco rivers, it is one of Venezuela's largest cities and is the base for some of the country's largest iron and steelworks and aluminium industries. Puerto Ordaz is also home to a large hydro electric power plant, Macagua.
For more than a quarter of a century Puerto Ordaz has been home to a community of Guyanese who left Guyana in sustained streams years ago and braved the treacherous waters of the Atlantic to reach the Orinoco and eventually, Puerto Ordaz. Some simply never made it, their journeys cut short either by the treacherous waters of the ocean or by the murderous deeds of the pirates that prowl the route in search of hapless victims.
Over time, this forgotten pocket of the Guyanese diaspora has grown, steadily, to approximately 40,000 souls. Outside of Suriname the Guyanese community in Puerto Ordaz is the largest expatriate group. The pioneers, the founding fathers of this community are ordinary Guyanese who gave up jobs as farmers, cane-cutters, carpenters and other lowly-paid pursuits to start a new life in another country.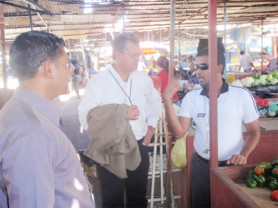 Chief Executive Officer of the Roraima Group of Companies Captain Gerry Gouveia who visited Puerto Ordaz last week says that the mostly East Indian community comprises former residents of various East Coast and Essequibo communities, predominantly.
So settled has this community become that the original 'settlers' have produced  a second generation, young men and women, some in their twenties, born in Venezuela to Guyanese parents. Gouveia says that their first language is Spanish and that this is supported by a creole Guyanese tongue borrowed from their parents.
Over time they have achieved only modest success in regularizing their status in Venezuela. Many of them, Gouveia says, have lived "underground, under cover." That, he says, has been changing in recent years and the Venezuelan government has been "regularizing" their stay at Puerto Ordaz. What they currently seek, Gouveia says, is "some kind of representation from Guyana." He explains that the distance between Puerto Ordaz and Caracas, the locale of Guyana's diplomatic presence in Venezuela, does not allow for such representation. He says that the community has received occasional visits from representatives of the Guyana embassy but these, he says, are "too few and far between" to serve the needs of the community.
The community has established an organization known as the Representative Organization of Guyanese in Venezuela, a civil society organization run by the young second-generation Guyanese residing in Puerto Ordaz. Their pursuits include the creation of community organizations and facilitating the entry of children into local schools.  "What is significant about this organization," Captain Gouveia says, "is that they have actually been able to engage the Venezuelan authorities to secure various forms of help for the people there,"  Gouveia says.
A critical aspect of the work of the organization is in ensuring that Guyanese passport holders in Puerto Ordaz are serviced by the Guyana Embassy in Caracas. "Whenever passports need to be renewed they would collect the passports and send them to the embassy in Caracas for renewal. The group has actually been doing a great deal for the community," Gouveia says.
Gouveia's recent visit to the Guyanese community in Puerto Ordaz was undertaken at the invitation of the Representative Organization of Guyanese in Venezuela. What they now seek is the creation of mechanisms through which they can establish closer links with Guyana and according to Gouveia plans are currently in train that are expected to lead to a once weekly flight between Puerto Ordaz and Georgetown. This is the second occasion on which an attempt is being made to establish an air link with Puerto Ordaz. The first prospered briefly then was shelved for a lack of patronage. The current effort, Gouveia says, probably has a better chance of success.
During his visit to Puerto Ordaz Gouveia met with officials of the Private Sector, the aviation authorities and representatives of civil society organizations. He explained that the Mayor of the city had agreed to attend a meeting organized by the Guyanese community at the City Hall but that an unfortunate intervention by the Guyana Embassy in Caracas had resulted in the meeting being cancelled. A smaller meeting with Gouveia and around 100 persons was eventually held at another venue.
Gouveia told Stabroek Business that the community sees itself very much as a part of the Guyanese diaspora. "These people are Guyanese, they want to be Guyanese. Many of them want to come back to Guyana to visit and those who were born in Venezuela are curious about Guyana. They want to come back to Guyana but many of them do not have travel documents. They are looking for official help in strengthening their links with Guyana. I believe that their organization is doing tremendous work and that they are deserving of official help."
The Guyanese community in Puerto Ordaz is an essentially working class community. Its founders are working class Guyanese who travelled there to seek a better life. Apart from their self-employment pursuits as carpenters, painters, spray painters, mechanics, upholsterers and other skills, some of the residents there have found employment in one or another of Venezuela's aluminium and steel-making industries located in Puerto Ordaz.  Others, Gouveia says, appear to have done well in trading. However, the majority of them are ordinary Guyanese."
EDELCA, one of the giants of the electricity sector in the hemisphere built and administers the Guri Dam, one of the largest suppliers of hydroelectric power in the world.
Gouveia says that the feedback he has received from his interaction with the residents of Puerto Ordaz suggests that they are being well treated by the Venezuelan authorities. "They are not wealthy people but they appear to be happy," he says.
Over time the Guyanese community in Puerto Ordaz has created its own cultural enclave including supplies of typical Guyanese foods. Gouveia says that he believes that the size of the Guyanese community in Puerto Ordaz and the level of their interest in Guyana more than justifies the setting up of a consulate there.
Gouveia says that the reintroduction of a regular flight between Puerto Ordaz and Georgetown is a godsend for the Guyanese community there. "Whenever they have to return to Guyana they have to use that treacherous route which takes them into the Atlantic in small boats. The option is to travel overland through Eteringbang and sleep in the jungle during the journey. Their lives are at risk whichever route they take. There have been incidents of travellers being robbed and raped. They are identifying more and more with the country of their birth and they are looking for a better way to travel."
Gouveia says that the role being played by the civil society organization is "more than deserving of the support of the Guyana Government. Actually, they are providing a valuable consular service for the Guyanese community in Puerto Ordaz. Their work should be acknowledged and perhaps there should even be some measure of official oversight," Gouveia said.
Every year the organization receives a grant of US$1500.00 from the Government of Venezuela to pursue their activities and Gouveia says that that the time has come for the authorities here to do their share in support of what he says is an integral part of the Guyanese diaspora. In a matter of days a delegation from the organization is due to visit Guyana to meet with public and private sector officials and organizations. "It would be a major breakthrough if they can leave here with some kind of official endorsement," he says.
Around the Web