A second rapid chess match between grandmasters Ivanchuk and Leko was held a few days ago in Mukachevo, Ukraine. The six-game match ended in a 3½-2½ win for Ivanchuk with five draws and a single victory in round five. Here is Ivanchuk's win.
Ivanchuk, V (2779) – Leko, P (2751)
Rapid Rematch Mukachevo UKR (5), 5.1.09
1.Nf3 Nf6 2.c4 c5 3.d4 cxd4 4.Nxd4 e6 5.g3 Bb4+ 6.Bd2 Bc5 7.Nb3 Be7 8.Bg2 Nc6 9.Nc3 0-0 10.Rc1 b6 11.Nd5 exd5 12.cxd5 Bb7 13.dxc6 dxc6 14.0-0 Qc8 15.Nd4 c5 16.Bxb7 Qxb7 17.Nf5 Rfe8 18.Bc3 Qe4 19.Qc2 Qe6 20.b3 Bf8 21.Bxf6 Qxf6 22.Ne3 Rad8 23.Rfd1 Qe6 24.Qc4 Qe5 25.Qa6 Qb8 26.Nd5 h5 27.e3 Rd6 28.Nc3 Red8 29.Rxd6 Rxd6 30.h4 g6 31.Ne4 Rd8 32.a4 Qa8 33.Qc4 Bg7 34.b4 cxb4 35.Qxb4 Qd5 36.Qe7 Qd7 37.Rc7 Qxe7 38.Rxe7 a5 39.Kg2 Rd1 40.Re8+ Bf8 41.Rb8 Ra1 42.Rxb6 Rxa4 43.Nf6+ Kg7 44.Ra6 Ra1 45.Ne8+ Kg8 46.Ra7 a4 47.Nf6+ Kg7 48.Ne4 Kg8
Ivanchuk, rather amazingly, managed to win this position  Almost no one, including Leko, expected such an outcome. 49.Ng5 f6 50.Ne6 Bh6 51.Nd4 Bf8 52.Ne2 Bh6 53.Nc3 a3 54.Nd5 Bg7 55.Nf4 Bf8 56.Nxg6 Bc5 57.Ra8+ Kf7 58.Nf4 Rb1 59.Kf3 Rb3 60.Ra5 Bb6 61.Ra6 Bc5 62.Nd5 f5 63.Ra5 Bd6 64.Nf4 Rb2 65.Rxf5+ Ke8 66.Rxh5 Kd7 67.Ra5 Kc6 68.Ne2 Kb6 69.Ra4 Bb4 70.h5 Kb5 71.Ra8 a2 72.h6 Rxe2 73.Kxe2 Ba5 74.Rb8+ Bb6 75.h7 a1Q 76.h8Q Qa2+ 77.Kf1 Black Resigns! 1-0.
'Expansion' is the buzzword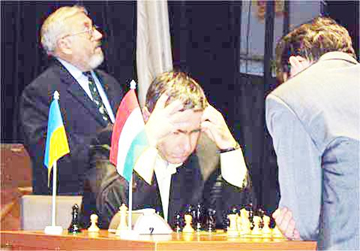 It is difficult to pronounce on what our achievements in chess would be for the year. It may be easier to say with a greater guarantee of certainty, that we will build on what we already have.
The buzzword for the year will be expansion. While most other countries perhaps, would be concentrating on the tedious process of producing champions, we will be stressing the importance of expansion. Great emphasis will be placed on conducting outreach programmes in an effort to carry the game to the ten regions of Guyana. This is the plan, and this is where the importance of the game lies for us.
In the meantime, tournaments, simultaneous exhibitions, workshops and training sessions will be held, but the emphasis will be on bringing in new people, especially young people to the game. We intend also to begin a dialogue with Caricom federations to examine the possibility of having an annual Caribbean Chess Championship at which all member countries of the Caribbean Community would be represented. This is the plan. At this year's National Schools' Championship, it would be wonderful if all the regions were participants. It is our desire to bring the best from the regions for one grand finale in Georgetown. Let us say the ten best from each region, competing together in one competition. This is the plan.
Some day one chess player from one of the regions would emerge a champion of chess for Guyana.
Around the Web