Chess (with Errol Tiwari)

What is a grandmaster? Where did the term 'grandmaster' come from? In 1914, Nicholas II, Czar of all the Russias, was host to a great chess tournament organised by the St Petersburg Chess Society. The Czar himself subscribed 1000 roubles towards the prize fund. That may have been a factor in inducing Emmanuel Lasker to participate − his first tournament appearance since 1909. The world's most important players took part.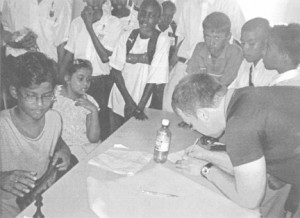 There was the Cuban José Raul Capablanca, who only a few years previously had made a spectacular entry into international chess, winning the strong San Sebastian Tournament in 1911. Akiba Rubinstein was there. Rubinstein was the end-game artist, the quiet man from the Polish ghetto who had won five successive tournaments and who − many thought − was the strongest player then alive. Frank Marshall, the romantic throwback from America, was on hand.  So were Latvia's  Aron Nimzovich, Germany's Siegbert Tarrasch and Joseph Henry Blackburne, the feared attacking player from England. David Janowski represented the French and Ossip Bernstein and the young Alexander Alekhine, both from Russia, upheld the national pride.
Lasker won the tournament, coming in half a point over Capablanca. The brilliant Cuban was in the lead until the eighteenth of the twenty-one rounds. But he lost to Lasker, and that demoralized him. He blundered away a won position against Tarrasch in the following round, giving Lasker the lead. With that went his chances. Alekhine surprised everybody by coming in third, followed by Tarrasch and Marshall.  At the banquet concluding the match, the Czar named those five players 'Grandmasters of Chess.' Lasker, Capablanca, Alekhine, Tarrasch, and Marshall are the original grandmasters.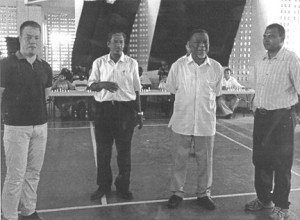 The term seems to have been used shortly after the turn of the century, and after St Petersburg 1914, the great players were always referred to as grandmasters. But the coinage would have been unknown to the great players of the previous century. They were known merely as 'masters.' Today, of course, we would call such titans as Wilhelm Steinitz  and Paul Morphy  'grandmasters' without question; they were so by any definition because they were the best of their time. The same might be said of of ar-Razi, the Persian who defeated al-Adli in 847ad in the shining presence of the Caliph al-Mutawakkil and his court.
The title of 'grandmaster' is the highest title a person can achieve in chess. Once you are given the title, you keep it for life. It cannot be taken from you.
Today we are relishing having had a young, esteemed and active grandmaster amongst us. Tomorrow, perhaps, we may well have a fighting grandmaster of our own. Unlikely, you say?
Think about Barack Obama. He has inspired us to believe in ourselves; to believe that we can achieve things which we once thought were impossible. Why should Guyana be satisfied only with hosting a grandmaster? We want more. We want to be that grandmaster. We want to walk proudly among other nations upon the world stage of chess.
It is not an idle thought. It is a defining goal of the Guyana Chess Federation – to produce a chess player of international stature, a chess player of distinction, a grandmaster of eminence.
For many years Cuba has flourished internationally through its grandmasters. Beginning in the early 1900s through the twenties when José Raúl Capablanca became world champion, Cuba has maintained a supremacy in chess within the Caribbean. At present Lenier Dominguez is creating waves internationally.
Our players must begin to think ambitiously. Our kids must begin to think 'grandmaster.' The ratings which they are given when they play tournament games should be protected with zeal.
Gelfand v Mamdyarov
The Fourth FIDE Grand Prix Series tournament ended on Thursday. At the time of writing, the Armenian grandmaster Levon Aronian led the field of fourteen with Hungary's Peter Leko in second place. In the following game, Mamedyarov loses a drawn rook ending to Israel's Boris Gelfand. Mamedyarov defends well for some time, but begins to lose ground. Analysis shows that taking the c-7 pawn gets Black to a lost pawn ending.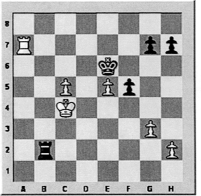 Gelfand, B (2733) – Mamedyarov, S (2725)
4th FIDE GP Nalchik RUS (11), 27.4.2009
1.Nf3 Nf6 2.c4 e6 3.d4 d5 4.g3 Bb4+ 5.Bd2 Be7 6.Bg2 0-0 7.0-0 c6 8.Bf4 Nbd7 9.Nc3 Nh5 10.Bc1 Nhf6 11.Bf4 Nh5 12.Bc1 Nhf6 13.b3 b6 14.Nd2 Ba6 15.Bb2 b5 16.cxd5 cxd5 17.a3 Nb6 18.Nf3 Rc8 19.Ne5 Bd6 20.Nd3 Qd7 21.Qd2 Bb7 22.Rfc1 a6 23.Na2 Qe7 24.Qa5 Bc7 25.Nc5 Nbd7 26.Qd2 Nxc5 27.dxc5 Bb8 28.Bxf6 Qxf6 29.b4 Bc6 30.Nc3 Rfd8 31.e3 Be5 32.Rab1 Bxc3 33.Rxc3 d4 34.exd4 Bxg2 35.Kxg2 Rxd4 36.Rd3 Rcd8 37.Rxd4 Qxd4 38.Qxd4 Rxd4 39.Rc1 Kf8 40.Kf3 Ke7 41.Ke3 Rd8 42.a4 bxa4 43.Ra1 e5 44.Rxa4 Rd4 45.f4 f6 46.Rxa6 Rxb4 47.Ra7+ Ke6 48.fxe5 Rb3+?  49.Ke4 f5+ 50.Kd4 Rb4+ 51.Kc3 Rb5 52.Kc4 Rb2
53.c6?  53…Kxe5? [53…Rc2+! 54.Kb5 g5!] 54.Rxg7 Rxh2 55.c7 Rc2+ 56.Kb3!  Black Resigns!! 1-0.