World chess champion Vishy Anand paid a surprise visit to Botswana three weeks ago as a guest of the Indian technology company NIIT, and the Botswana Chess Federation.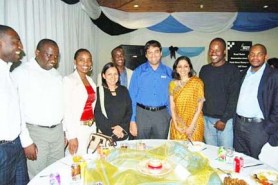 NIIToperates a subsidiary company in Botswana, and its managing director Sheela Raja Ram said that whenever she looks outside her office window in Gaborone she observes students playing chess during class breaks. This circumstance influenced her to arrange for Anand, who is NIIT's Ambassador/ Spokesman, to visit Botswana on a goodwill tour. Anand is the first world chess champion to visit Botswana.
Anand played two simultaneous exhibitions against students from a wide number of schools, and the cream of Botswana's chess players which included a woman grandmaster and a woman FIDE master.
At a dinner which was held in his honour, Anand noted that in chess one always has to come up with a new plan for every game, as what has already been played would be studied by opponents and therefore would be of no use in the future. The world champion said that studies have demonstrated "there are lower levels of delinquency in kids taking up the game of chess," and the game also improved academic performance.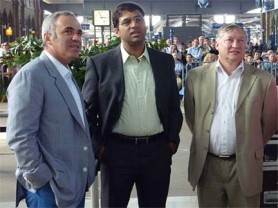 Anand has started a Mind Champions Academy project in India which selects and trains talented kids to play chess. He is currently assisting the Botswana Chess Federation to establish a similar version of the academy in Gaborone.
In local chess, the Guyana Chess Federation will begin the qualification tournament for the national championships on Saturday, September 19. Details of this tournament will be publicized in due course, but in the meantime, interested persons can contact the tournament director Irshad Mohamed on 664-1650 for further details.
Svidler v Gelfand
The game is taken from the 3rd ACP World Rapid Cup that was played in May. Sixteen grandmasters participated in the tournament which was won by Israel's Boris Gelfand. Russia's Peter Svidler needed to win this game to remain in contention for first place. He made a colossal blunder on move 56: Bxd5?? (Diagram).
Svidler,P (2726) – Gelfand,B (2733)
3rd ACP World Rapid Cup Odessa UKR (4.4), 24.5.2009


1.c4 e5 2.Nc3 Nf6 3.Nf3 Nc6 4.e3 Bb4 5.Qc2 Bxc3 6.Qxc3 Qe7 7.a3 d5 8.cxd5 Nxd5 9.Qb3 Nb6 10.d3 0-0 11.Be2 a5 12.Bd2 a4 13.Qc2 Be6 14.Rc1 Bb3 15.Qc5 Qd6 16.0-0 Nd7 17.Qxd6 cxd6 18.Bc3 Nc5 19.d4 exd4 20.Nxd4 Nxd4 21.Bxd4 Ne6 22.Bc3 d5 23.f3 Rfd8 24.Rf2 d4 25.exd4 Nxd4 26.Bf1 Rac8 27.Rd2 f6 28.Kf2 Kf7 29.Re1 Nc6 30.Rxd8 Rxd8 31.Re4 Ne5 32.Bb5 Bc2 33.Rh4 h6 34.Ke3 Ra8 35.Rd4 Bb3 36.f4 Ng4+ 37.Kf3 h5 38.h3 Nh6 39.Rd7+ Kg8 40.Kf2 b6 41.Rb7 Rd8 42.Rxb6 Nf5 43.Ra6 Nd6 44.Bxa4 Ne4+ 45.Ke3 Bc4 46.Rc6 Bd5 47.Ba5 Ra8 48.b4 Ng3 49.Rc2 h4 50.Bb5 Kh7 51.Bd3+ Kh6 52.Kf2 Re8 53.b5 Nh1+ 54.Kg1 Re3 55.Bc4 Rxa3

White can put an end to all Black aspirations with the simple 56.Kxh1 and now e.g. 56…Bxc4 57.Rxc4 Ra1+ 58.Kh2 Rxa5 59.Rb4. Instead he played 56.Bxd5?? Ra1+ and Black mates: 57.Kh2 Ng3 and White cannot prevent …Rh1 mate. White Resigns!  0-1.
Comments

When the finest chess players on the planet clash in the same competition, no one, not even the world champion, is safe.

Chinese woman chess grandmaster Hou Yifan, 23, a former chess prodigy and three-time Women's World Champion, emerged victorious in the 50th Biel Chess Festival in Switzerland last week.

Following a six-month period of non-activity in tangible chess playing, the Guyana Chess Federation (GCF) is back on stage in the local limelight.

Teimour Radjabov, a chess grandmaster from Azerbaijan who is ranked Number 32 in the world, placed first in the recent FIDE Grand Prix in Geneva.

 The game (chess) has always been thought of as a relatively pure measure of intellect, and the presence of a Soviet atop the world rankings signalled to the empire's subjects, no matter how poor and starving they may have been, that they possessed some sort of superiority – Jack Dickey, in an article titled "Can Garry Kasparov stay a move ahead of Vladimir Putin?" Sports Illustrated, July 2017.