A consumer telephoned to complain about Guyana Power and Light (GPL). The electricity bill was normally around $6,000 per month. The latest bill showed $16,000. He was told by GPL the usual words, "You have to pay." If this consumer had a pre-paid meter he would not have experienced this problem.
GPL is preparing to accelerate installation for persons with 110 volt meters. Pre-paid meters will be made available to customers on a first come, first served basis.

The benefits these new meters can deliver are listed below:
* A pre-paid meter is simple and acceptable as the display (Customer Interface Unit) is installed conveniently in the home.
* The customer is in a position to conserve electricity. As he conserves, the benefits will be seen immediately.
* He will know how many watts he is consuming and can compare it to the appliances in use.
* He knows when there is a wiring fault in his home or when appliances are becoming defective. If the meter is registering when no appliance is in use then there is a fault in the wiring.
* The customer buys power as he needs it, or at his convenience.
* There are no fixed charges. Residential and small business consumers don't have to pay the fixed charges, per month.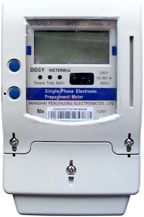 * There is no disconnection or reconnection fee.
* There is no more bill due date. The customer doesn't have to worry about bills and when he has to pay.
* There are no more estimated bills. The customer doesn't need to worry about access to read his meter or about being estimated.
* No security deposit is required.
* The tariff does not change.
* There are flexible purchase options. The customer decides how much he wants to purchase.
The customer doesn't need to join a line to pay his bill. Sales outlets for juice cards will be located conveniently.
* The customer doesn't have to worry about his credit being exhausted in the pre-paid meter without his knowing. The meter warns the customer in good time. If the customer's credit is exhausted he can purchase a credit by phone using a juice card.
There is no charge for the installation of a pre-paid meter.
When a customer changes to a pre-paid meter he normally owes GPL for two months. If he takes a pre-paid meter in October, he will still owe GPL for August and September. When he purchases cards for his pre-paid meter, 30% will go towards the sum due to GPL until the debt is fully repaid. If a customer purchases a card for $5,000 the pre-paid meter will have 70% while 30% goes to the debt.
The key benefit of the pre-paid metering system is that it provides you with the ability to monitor your electricity usage. You are in total control of the amount of energy you burn per month. You can make lifestyle adjustments that benefit you. You control how much you want to spend. Your electricity expenses will be what you want them to be. You will receive a statement of your electricity consumption from GPL either annually or semi-annually. You can budget in a real way your electricity expenses.
Around the Web