Obituary
Desrey Clementine Fox, née Caesar, Minister in the Ministry of Education and former Curator of the Walter Roth Museum of Anthropology, died on December 11, 2009, aged 54.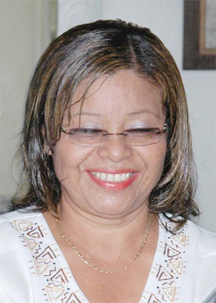 Dr Desrey Fox's appointment as Minister in the Ministry of Education was applauded at a unique ceremony involving toshaos and other well-wishers in April last year. On that occasion, Carolyn Rodrigues-Birkett who had just been appointed Minister of Foreign Affairs was bade farewell and Pauline Sukhai was welcomed as Minister of Amerindian Affairs. The three had just made Caribbean history by becoming three first female indigenous ministers.
They formed a formidable force that was just beginning to have a measurable impact on explaining government policies to hinterland communities. Desrey Fox herself had only recently translated extracts of the Low Carbon Development Strategy into the Akawaio language to make it comprehensible to older folk.
Nothing in her early life suggested that, at the mature age of 50 years, Desrey Fox would become politically active, much less a minister in the People's Progressive Party/Civic administration. Following the 2006 general elections, she was sworn in as Minister within the Ministry. There she was given direct responsibility for the development of Technical and Vocational Education, Health and Family Life Education, School Welfare Services, School Sports and Physical Education and the promotion of culture through music, dance and drama. In so doing, she began rebuilding the bridges between her ministry and Ministry of Culture, Youth and Sport. She also played a role in the reactivation of the National Schools Choir and Steel Orchestra.
She represented Guyana at the 48th session of the International Conference of Education in Geneva in November last year when she presented a paper titled 'Inclusive Education: Approaches, Scope and Content to Broaden the Understanding of the Theory and Practices of Inclusive Education.' It was her belief that inclusive education − a children rights-based approach that develops the capacity to work with and maintain the diversity in Guyana − was becoming an important element in the achievement of the Millennium Development Goals.
Although she seemed comfortable in the cabinet, Desrey Fox's path to political office followed a peculiar and unplanned course. Nearly thirty years earlier, in March 1977, she had been recruited into the University of Guyana as a junior researcher − attached to a special project then known as the Amerindian Languages Project − by Dr Walter Edwards, the project's founder and director. At that time, the Upper Mazaruni Development Authority was planning the construction of a hydro-electricity scheme that was expected to flood certain parts of the Mazaruni basin inhabited by the Akawaio and Arecuna people. The project was charged with the documentation and conservation of the language and cultural heritage of those peoples.
As an Akawaio native speaker, Fox was given responsibility for helping to prepare data on that language. She soon became the lead research assistant and participated with others in preparing articles, bulletins, dictionaries and radio programmes on seven of the indigenous languages. After Edwards emigrated in 1980, she continued working on the project under the administration of successive directors, spending more than half of her short life there. It was finally re-conceptualised as the Amerindian Research Unit.
That fortuitous employment experience was the source of personal satisfaction and, ultimately, the platform for her professional advancement. It was an opportunity to re-engage with a culture from which she thought that she was becoming alienated and to reassure her people, in her words, "that I had not forgotten them… that I was going to work for them."  It was also a gateway to advance in a field of knowledge which enabled her to research deeply into cultural phenomena that she took for granted or might have ignored.
Desrey Fox agonised over the age-old dilemma of indigenous integration.  Accepting that there was a clash of cultures between the people of the coastland and those of the hinterland, she gradually found a way to fuse her academic education with her own Amerindian experience.  That misunderstanding of the dichotomy between the dominant cultures of the majority and the indigenous culture was clear. That issue was eating away at national cohesion.
It was her belief that persons who had been introduced to modern education tended to embrace the "dominant culture," abandoning their own culture before realising that they were "neither here nor there." The predicament of indigenous people was that they were not fully integrated into the dominant culture but were becoming 'misfits' in their traditional culture." Acceptance of both cultures, she felt, was essential for future Amerindian development.
For much of her life, Desrey Fox strove to make sense of the world in which she had to live.  She said in an interview, "I realised that my culture was different to the culture [at the university] and that sort of urged me to look inside of me… Growing up in an Amerindian community, I took my culture for granted and I didn't see eating and waking up and walking and saying things in a different way was different from anybody else. I realised that I was different and, from then on, I started to whip up consciousness within myself and said that 'there is an Amerindian culture. I ought to be proud about it.'"
Her entry to the university as a junior staff member was an eye-opener. She seized the opportunity to become a student and was admitted to the Faculty of Social Sciences in 1984, a step that changed her life completely. She took a Bachelor of Social Sciences Degree in Sociology, continuing to work at the university. She won a European Union scholarship to read for a Master of Arts degree in Environmental Anthropology at the University of Kent at Canterbury in 1996. It was there that her research into Kanaima for her dissertation thrust her atavistic convictions into collision with her Christian creed. Despite being brought up in the strict Adventist faith, she then came to see Kanaima not as a fictive figment of folklore but as a persistent, present-day reality which agents could use to harm their adversaries. It was difficult to reconcile the occult with the gospel. After completing her Master's degree, Desrey Fox returned to her job at the university. Again, by chance, she encountered a group of doctoral candidates from Rice University in Houston, Texas, who were doing research in Suriname.  After enquiries from that university, she was offered a scholarship leading to a doctorate in Linguistics. She successfully defended her dissertation Zauro'nodok Agawayo Yau: Variants of Akawaio Spoken at Waramadong, and was awarded a PhD in 2003.
Dr Fox was an accomplished academic. Her research has measurably enriched public knowledge of indigenous life in this country. Its cross-cultural bent has resulted in data being collected on a wide range of indigenous issues and situations including demography, geography, history, spirituality, kinship, language and music.
Her articles, chapters, papers and theses testify to the depth of her thought. They include The Indigenous Condition in Guyana: A Situational Analysis of the Mabura Great Falls Community, undertaken with Professor George K Danns; Continuity and Change among the Amerindians in Guyana; Five Hundred Years After: Indigenous Women in the Caribbean Revisited; Caught within the Cracks: the Case of the Amerindian Women of Guyana; Zauro'no dok Akawaio Yau: Variants of Akawaio Spoken in the Village of Warmadong; and,  Body Metaphors in Akawaio House Construction.
She has also received numerous academic awards including a presidential scholarship to attend Rice University; the European Union scholarship to read for Master of Arts in Environmental Anthropology at the University of Kent at Canterbury; the Robert Lowery Pattern Prize from Rice University; the Dennis Irving Prize from the University of Guyana and the post-doctoral National Science Foundation Grant from Rice University.
Her academic career advanced steadily with her professional qualifications. Prominent appointments included Head of the Amerindian Research Unit and Lecturer in Linguistics and Amerindian Studies at the University of Guyana; Associate Researcher, University of Oregon and Curator of the Walter Roth Museum of Anthropology.
A remarkable woman, Desrey Clementine Caesar was born on January 2, 1955, the eldest of seven children of Gibson and Anita Caesar. She grew up in Waramadong (or Waramadan) Village, on the Karanang River, a tributary of the Mazaruni River, in the Cuyuni-Mazaruni Region. A mainly Seventh Day Adventist community of fewer than 500 persons, the population is mainly of Akawaio ancestry.
Her father who was a Venezuelan migrant and who was trained at the Adventist College in Trinidad, and her mother who hailed from Kako Village on the Mazaruni River, were among the earliest schoolteachers in Waramadong. Theirs was a Christian household where only English was spoken. It was from her grandmother who spoke Akawaio that she learnt the language and  her native culture. This caused her to acknowledge "I lived in two worlds."
Desrey Fox first attended the Waramadong Primary School then came to Georgetown where she attended the Campbellville Government School and the Seventh-Day Adventist Academy.  Unable to afford the expense of living in the city, she returned to her village to prepare for her GCE 'O' levels.
She was selected for a two-year training course in rural midwifery at the School of Nursing in Georgetown in 1973 and practised nursing at the Georgetown Hospital for three-and-a-half years. She suddenly decided to quit, however, and was married shortly afterwards. That decision caused her anguish and a sense of failure because she felt that she was expected to return to work in the village but did not do so. Her appointment as minister, she felt, vindicated her decision and restored her community's confidence in her.
She married Terrence Fox but the marriage was dissolved. Her three sons survive her.
Around the Web