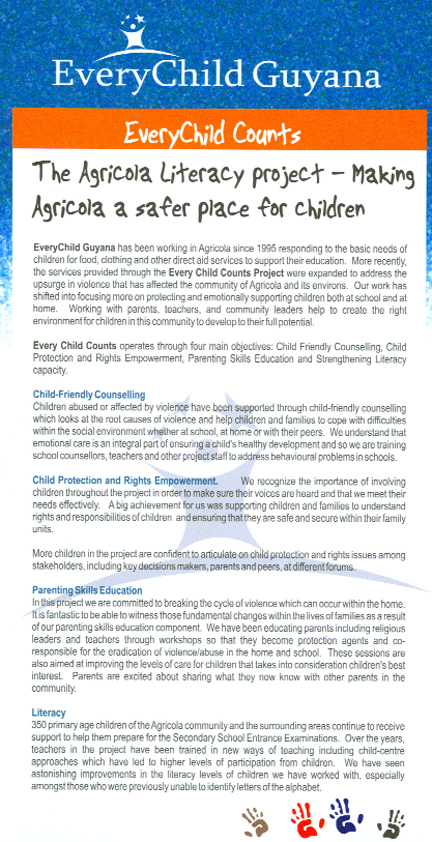 EveryChild Guyana was initially registered in Guyana in 1995 as the Christian Children's Fund and established under its current name in 2002 as a Field Office of EveryChild UK. The mission of the organization is to contribute to initiatives to help bring an end to violence against children who are in danger of becoming separated from their families, care givers and communities. The organization seeks to provide children with the opportunity to grow up in caring families and communities, protect children from violence, abuse, discrimination and exploitation and empower children, their families and their care givers.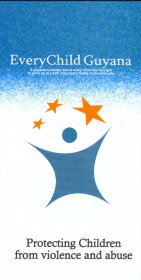 In this issue The Guyana Review examines the perspectives of the organization on the issue of violence against children in Guyana and the various ways in which EveryChild is working in partnerships with the Government of Guyana and various NGO's and social organizations to help to address the problem.
The information published in this interview is based on an interview with EveryChild Country Director Omatie Madray and information made available to The Guyana Review by the organization.
From EveryChild's perspective the problem of violence against children in Guyana has reached alarming proportions. "The level of violence within the home, within the schools and on the streets is very high and as a nation we have to be concerned about it. I don't think that the average person on the street is actually connecting the violence within the Family to the violence on the streets. We see a lot of play of guns, a lot of people getting killed and a lot of men murdering their spouses but we do not connect it to where it comes from. Violent behaviour is actually learnt."
Madray says that violence has even become a part of our language. "Even the exercise of getting people to do simple things is sometimes accompanied by threats."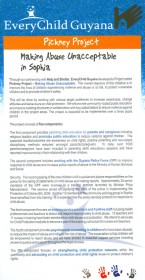 According to Madray there are more than 650 children in 25 institutions across the country and the vast majority of them are there because they have been removed from violent homes. "For a nation as small as ours this is a large figure and we have to be concerned about it. We have to ensure that children grow up in a safe environment," she says.
EveryChild's main aim is to initiate and support projects designed to stop violence against children. In pursuit of this objective the organization has developed partnerships with the Government of Guyana, the Mayor and City Council, Linden Care Foundation, Help and Shelter and the Ruimveldt Children's Centre. Madray says that the organization believes that it can be most effective in providing support for existing projects. "What we seek to do is to strengthen these facilities to enhance their management and to improve their skills capacity. We aim to assist them in the delivery of services to children."
In the longer term the organization hopes to stop the separation of children from their parents. To do this we must stop the violence. Children are living in institutions mainly because of violence, physical violence where husbands and wives are beating up on each other and beating up on their children; the children eventually run away from home."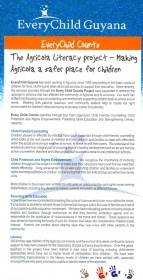 Children who have had to be assigned to homes have also been victims of sexual violence where, Madray says, "stepfathers, fathers, brothers and uncles are sexually violating young girls while there are also cases of young boys being violated the greater percentage of sexual violence is being perpetrated against young girls. Some of those children my well not be able to return to their own parents."
That raises another challenge. Madray says that at the moment EveryChild is seeking ways of ensuring that children do not spend their entire lives in institutions. "That is why much of our work seeks to raise the level of public concern about the level of violence against children. No violence against a child can be justified," she says.
Madray believes that part of the solution to the problem of violence against children lies with   teaching parents and care givers "special skills"  which they need if they are to take responsibility for children. "Unless we are taught those skills we will have difficulties in dealing with our children."
Between 1995 and 2002 EveryChild ran two projects, in East La Penitence and Agricola. "Our work was mainly in providing direct aid to children in those communities. We gave children school books and school supplies and otherwise assisted their parents to send the children to school," Madray says. 
In 2002 the organization undertook a global review of its work and, arising out of that review, embraced an expanded mandate. "We decided that children need a whole lot more than food and clothes if they are to be cared for.  They need different types of services and the sustainability of those services if they are to grow up."
Arising out of its review the organization prepared its first Country Plan for Guyana in 2002 that sought to provide services chiefly in the areas of health and education. Out of that came its One Life Project and later on the Pickney Project. A subsequent   review in 2006 found that EveryChild was working mainly with children separated from their parents or at risk of separation."
………says that the organization approaches it work from a rights-based perspective.  "Projects or interventions that are developed seek to address a right that is not being met. Hence the Agricola Project that sought to develop the right to education; the One Life Project begun by looking at health care including the care of children affected by HIV/AIDS."  
Currently, EveryChild is collaborating with the Ministry of Human Services and UNICEF to give effect to legislation that allows for abused children to be removed from their homes and placed in a safe environment. "Part of our work during this pilot period is to assess how ready we are as a society to provide alternative care for children who must be separated from their families. There are people who are interested in accepting children in their homes on a long-term basis. We are also looking t providing this service to children for a shorter term to allow us to do some amount of counselling with the families to prepare them for taking responsibility for their children." 
Everychild's specific role in this collaborative activity is to visit children in foster care in order to ensure that they are kept safe and allowed access to their basic rights including access to education. "We also need to ensure that the child has a voice in issues that concern them."
………..says that the task of ensuring that abused children safe is a critical one. "We find that children without proper parental care are much more at risk of resorting to the streets, embracing long-term deviant behaviour and more at risk of having to grow up on their own. In such cases girls become more vulnerable to prostitution or being confined as   domestic workers. In those cases they are also robbed of access to an education and to the opportunities that go with an education."
Part of Everychild's concern with making the stay of children in institutions is rooted in what ………….says is a concern that there are still some risks associated with being in institutions. "Most of the children that are in institutions are low achievers and they do not grow up to realise their full potential compared to situations in which they are with families, even extended families,"  says. She explains that most of the institutions to which thee children are confined lack the trained staff to provide certain critical support services for the children including support with their academic work. "That kind of environment can be quite challenging for a child."
Violence apart, EveryChild is concerned that children, particularly those in rural communities, are often victims of chronic neglect. "We are aware of cases where parents simply go out and leave their children alone or under the protection of neighbours who take advantage of them. In some cases these are female single parents who work as security guards and have to leave their children unattended for several hours. Life can be challenging for female single parent who may not be qualified to access any other job apart from that of a security guard. In such cases neglect becomes a key issue."
Around the Web