President Bharrat Jagdeo yesterday confirmed acting commissioner Henry Greene as substantive Police Commis-sioner asserting that he took the position at a difficult time and has performed creditably in the two years.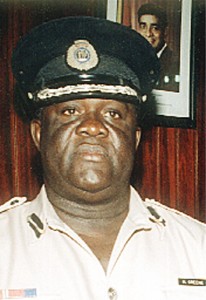 Jagdeo said he expects that Greene would perform at the highest level since the citizens of Guyana place a great deal of trust in him. He also urged the new commissioner to sustain the strong collaborative ties the force has with the Guyana Defence Force.
The President added that he was pleased to confirm Greene, as he was in appointing Commodore Gary Best as Chief of Staff of the GDF.
Greene had been acting since late July 2006 when then Police Commissioner Winston Felix proceeded on pre-retirement leave. His confirmation as top cop had been mooted for sometime now.
"I have never been involved in any drug activity with any drug lord and I maintain that position onto this day", Greene told reporters yesterday after he was sworn in, in reference to insinuations after his visas to the US were revoked.
Greene said that he stands by the statement he had issued in the wake of the revocation, in which he denied allegations of any wrongdoing.  The US had revoked Greene's diplomatic visa in April 2006 before taking back his visitor's visa in June of the same year after Washington alleged that the then Acting Police Commissioner had benefited materially from the drugs trade. Back in 2006 Greene said that the revocation was a painful event for him, but he noted that it is the prerogative of states to grant visas and to also revoke such visas in their own deliberate judgment, subject to the application of their laws.
"I want categorically to state that I have never been involved in any way with illegal drug operations either locally or abroad, and I have never associated with any drug dealer," Greene, had stressed in his statement.
Yesterday the Commis-sioner was full of gratitude to the President, his government and the people of Guyana for "the confidence which they have bestowed upon me".
He said the entire force also threw their support around him, adding that he will continue to work assiduously to keep the country safe.
Greene stated that his duty and that of the force is to preserve the people's interest, which he said, includes their right to a country that is secure. He added that people should be allowed to walk the streets peacefully and enjoy the things that they have.
According to him, the confirmation came at the right time since the Police Service Commission was expected to name ranks that have been promoted hours after his swearing in. Greene noted the ranks had been waiting on the promotions since 2006.
Around the Web