The water level in the Mahaicony Creek has continued to rise and residents have finally lost all hope of saving their rice and cash crops while livestock farmers are running out of dry land for their animals.  With their farms and homes inundated and with no means of earning a livelihood residents are running out of food and said they were "glad for any assistance" they could get from government or businesspersons "just to survive."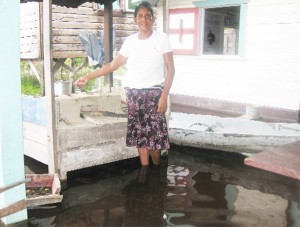 When this newspaper visited the creek yesterday a few rice farmers, Iman Hussain, Mokshatam Persaud and his son Kevin, Latchman Udan and Dharmendra Persaud who left their homes at Black Bush Polder to invest in 350 acres of rice at Pine Ground were in deep distress after losing almost the entire crop.
The farmers who rented the land from an overseas-based resident lamented that they were in the process of reaping and had recovered only a mere 270 bags of paddy out of a projected 5000 bags, suffering losses of over $15M.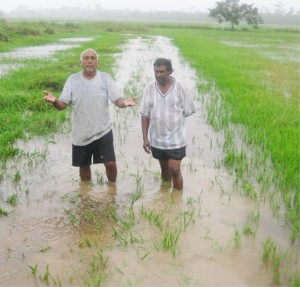 They lamented that even with the heavy rainfall earlier in December their rice had not been under threat as they had been successful in pumping water out of their fields. However their cost of production as well as the extra money they spent on labour and fuel just to keep the fields dry while they harvested, all had gone to waste.
The farmers took this newspaper on a tractor ride along a partly flooded dam beside fields close to a house where they were staying to demonstrate the extent of their loss. This newspaper observed that a combine that had started to harvest the crop as well as a tractor pump had been left abandoned in one of the fields.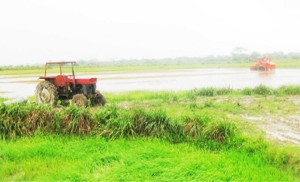 Though eager to take this newspaper to the field, Hussain who was on the verge of tears kept repeating that seeing his labour and "all meh money go down the drain like that is getting me sick."
He said too that "this is really stressful and if me take this on me gon run mad." The man had also invested in cash crops including cabbage, corilla, same and peppers on a portion of a five-acre plot of land at Mibicuri, Black Bush Polder (BBP) that his wife, Nashiroon was taking care of, but he said he may lose that as well.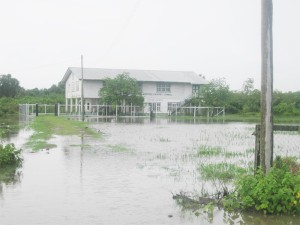 Mokshatam of Lesbeholden said he had invested all the proceeds he got from selling a tractor and a plot of rice land at BBP as well as $8M that had been loaned to him by the bank, in the crop.
He, together with Latchman and Hussain who stood more than knee-deep in a portion of the flooded rice field remarked sadly that "now is time to reap the benefit of we hard work and overnight the water come and wash everything away and mek we beggers."
He said they were still to make plans on how to recover from their losses and he was worried about how he would get money to repay his loan. He said the Minister of Agriculture had promised to give farmers fertilizer and seeds to restart their crops but with their major investment they were also looking forward to financial assistance.
He and the other farmers made an appeal for President Bharrat Jagdeo to visit the creek, "because he gat to come in here for heself to see how we punishing. Things really rough and we don't think the other people who come in here does tell the president the truth about what we passing through."
They said too that "we nah have money to invest in the crop again and we glad if the president can talk to [officials at] the bank to give we time to pay. We need help to go back on the land; we done run bankrupt."
Mokshatam, who has 35 years experience as a rice farmer in BBP said he had never suffered losses to this extent. He currently has 45 acres of rice under cultivation at Lesbeholden and said that despite a flood in BBP that crop seemed safe so far.
According to Udan, "It is not easy to invest so much money and suffer blows and not get a return. You really gat to have a strong heart to stand up in this condition."
Yesterday the farmers said they had told a few livestock farmers who were not getting grass for their animals to "make use of the rice that lef in the fields before it waste."
Another rice farmer, Heeralall Persaud who cultivated a 60-acre plot at Gordon Table said his combine was on the dam ready to cut the rice, "but can't reach it because it cover with water."
He said a "new" tractor he had purchased for $3M had also been left unprotected on the dam and said that persons might "strip it and take away the parts."
Further he said he, like other farmers, had lost their kitchen gardens while his 40 head of cattle were "on a lil high spot but ah don't know how long it gon remain dry."
Shankumar Persaud of Gordon Table told this newspaper that although his land is high it was still under several inches of water "which only happen when the Maduni sluice open and if they [government officials] continue like this we gon turn beggers."
He acknowledged that the "rainfall is a lot more than last year and the year before but still we coulda survive with the natural rainfall." He said presently the water was overflowing from the Mahaica Creek and come across to the Butanabu Creek and empty into the Mahaicony Creek and now it going to Abary."
The man said he tried to save his ducks from which he earns a livelihood by lifting the pen, "but the water kept rising and the coldness can kill them." Instead, he said he killed some of the ducks and shared them out.
His wife, Norma Persaud told this newspaper that although her yard was flooded she still had to continue cooking on her fireside. She said she had a kerosene stove but there seemed to be a shortage of that commodity which was currently selling for $1200 to $1600 per gallon.
Over at Debbie Persaud's house next door, this newspaper found her sitting at the bottom of her stairs doing her dishes. Her three children, aged one, four and six were looking on from upstairs.
She said she had to keep them away from the water as the one year old had already started to get sick. She said the medical team was in the area recently and she looked out for them to visit but they did not stop. "It expensive fuh me take she to the doctor," the woman said.
She said she lost her small garden with ground provisions, pumpkin, bora and same, and "right now we glad fuh anything; flood gat we real bad." Her pen with poultry is under water and she said some of her baby chicks had died.
This newspaper caught up with pensioner, Peralall of Pine Ground who had gone to the home of Bholanauth Deolall to give him some green papayas that he had picked from his dying tree.
He picked three pails of the fruit and jokingly remarked that he was "sharing flood relief." He said the papayas tasted delicious when they were cooked in a stew or curry.
He said he made a raft for his poultry and "ah don't know if they gon die before the water go away. Me neva see nothing so and nobody nah bother wid we in hey." He felt that government should provide "proper compensation to the people in here because dem open the water to save the East Coast people."
Deolall said his one-acre cash crop farm consisting of peppers, same and tomatoes had been destroyed. He used an innovative method of lifting the root of his same out of the water by putting it in a half-drum but still had not managed to save the tree.
He said the Mahaica-Mahaicony-Abary/-Agricu-ltural Development Authority (MMA/ADA) made efforts to empolder the dam on the right bank to prevent flooding but the because of the volume of water released from the conservancy the dam was no match.
He was, however, pleased with the work done by MMA. He too had spent "a lot of money to build up my yard and it is impossible for rainfall alone to flood here." His yard was the only dry one in the creek.
He and his son, Amo Deolall who resides next door have had to send their cattle to a high spot but he said the spot would not remain dry for long. Amo said his three children had become sick and he was pleased that the medical team that visited had provided medicines for them.
Cash crop farmer, Rakha Singh said he tried his best to save his garden but after the heavy rain started on Christmas Day the water had to be released and he "had to give up."
"This place is sheer punishment and starvation. Nobody nah want to buy here or me woulda just sell it out and go away," he said.
A labourer of Gordon Table, Mahendranauth Panday told this newspaper that at the moment he could not get any work and was worried how he would be able to take care of his wife and two, six, eight and 12 year old children. He also has to maintain his mother and an uncle. Four of his 20 sheep have died so far.
He said he applied for a house lot on the road but did not get through and he was not able to send his son to a school on the coast where his Grade Six Assessment qualified him to go.
This newspaper observed yesterday that because of the rising level of water in the creek it had started to get into the villages of Wash Clothes and Mortice and was also flowing over the road. The Mortice Primary School was also surrounded with water.
Around the Web