A brief respite from flooding for Dochfour, East Coast Demerara residents ended Saturday, as heavy rains that afternoon and early yesterday swamped the area, though not as badly as before.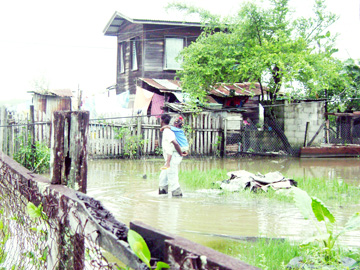 The renewed flooding has left the residents deeply upset and frustrated with many calling for the quick reactivation of the critical Hope Koker, saying only this will drain the area whenever it rains heavily.  Water in the low-lying community was several inches deep and appeared not to be moving, this newspaper observed on a visit to the community yesterday afternoon.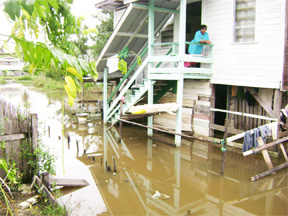 Two pumps that had helped to drain the water last week after over three weeks of flood misery were removed on Friday and residents said that these should be brought back as a temporary measure. They feared that more heavy rain could deepen their woes. "If more rain come, is more water gon come in and it ain't gat nowhere to run" said one resident. Embankments have been built around the community and there is virtually no drainage out. A tube leading from the village to an adjoining canal is yet to be installed. At the Hope Koker, which was opened when this newspaper visited late yesterday afternoon, the flow of water out to the sea was barely discernible.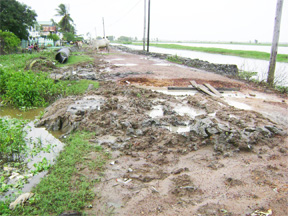 Residents continued to count their losses yesterday, with many expressing worry about the weather, food, work and loans that have to be repaid. They said too some assistance should be rendered to them to help them get back on their feet and many advocated some form of compensation.
Out of his 15 sheep, four have died, with two more catching cramp yesterday, Latchman Kallicharan said. Their pen is under water and the sheep are being kept at another villager's home. "The government should see that people need help…nobody ain't getting nothing from (their) farm", he commented. Another resident remarked that the Hope Koker was not "up to standard" but the excavators clearing the channel had already left. The residents said that the pumps should be brought back to remove the water, since the village was low-lying and the water was not running off.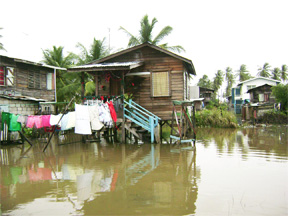 Bridgegobin Mohabir said that the main issue was the Hope koker. "The koker gat to be fixed", he declared adding that if it was not, the next rainy season would present the same problem. This newspaper had been told by Clement Corlette, Chairman of the Regional Democratic Council (RDC) of Region Four that the koker's lack of performance lay in a faulty groyne which causes it to become easily silted up. Corlette had reported that the Hope koker's groyne was practically non-existent. This, according to the RDC Chairman, was because the groyne was old and needs to be maintained. However, while the National Drainage and Irrigation Authority had discussed the maintenance of the groyne, Corlette had explained that works would not start until later this year. "If the koker nah function nothing gon happen inside here", said one resident.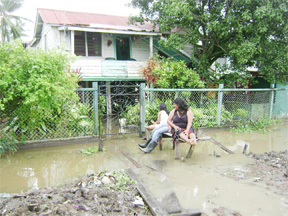 Farmers further said that they could not replant at this time because it is too wet and the land is very muddy. And losing their crops presents other problems. Feroze Mohamed said that he had taken a loan from the Institute of Private Enterprise Development and is worried about keeping up with his payments since all his crops were lost. He said that persons should be given documents so as to allow them some time to repay their loans. He stated that he was not the only person facing that problem in the village.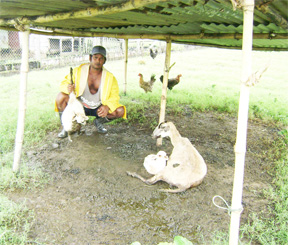 Meantime, residents said that they should have been given jobs cleaning the trenches in their area as with the current flood, many of them had no source of income. But they noted a contractor had utilized labour from elsewhere.  Apart from the many common worries voiced, Halima Sadick had another. She said that the water was washing away the ground surrounding the foundation of her house. "We need the groyne to fix but right now they need to pump the water out", she added.
Residents pointed out that several actions can be taken to alleviate the flooding and this included the replacing of a tube that drains water from the nearby trench to another that runs to the Hope Koker, with a larger one. It should also be raised as the current tube was set too deep, the residents said.
Also on the minds of some residents, was the need for them to know where the proposed trench running from the East Demerara Water Conservancy to the Atlantic Ocean would be located, as according to them, they had learnt that it would be close to their community and some might have to move.
Meantime, water returned to the land in a few other areas on the East Coast Demerara. Parts of Buxton were covered with water yesterday.
Back in Duchfour, their shared ordeal has brought villagers closer together. A spirit of camaraderie has enveloped residents with each assisting each other as best as they could. Less affected persons have assisted villagers more heavily affected by the floodwaters by allowing their livestock to remain in their raised yards. One family had "taken in" another family, whose floor of their one flat house was totally covered in stagnant water.
Around the Web