Dochfour remained swamped yesterday in the floodwater which began to accumulate for a second time over the weekend as a result of recent heavy rainfall and up to late yesterday afternoon no measures had been taken to alleviate the situation.
Dochfour, a small farming community near Ann's Grove on the East Coast Demerara, was under feet of water for most of December. It was only for the New Year that drainage authorities managed to rid the village of the floodwaters.
However, within days water began gushing in the community again. Washing away the little hope residents had said they had of making a new start.
These people, who have suffered for weeks, fear having the floodwaters increase further and wonder when they will be able to immediately replant their crops.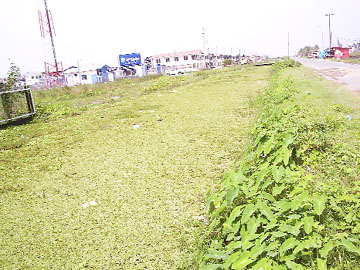 When Stabroek News visited the community on Sunday residents had informed us that replacing a tube which drains water from a Dochfour trench into another that runs to the Hope koker was one of the ways to ease the flooding in the area.
However, a visit to the area yesterday revealed that no such action has been taken. Efforts made to contact the drainage authorities about the present state of the Dochfour situation were futile. Both Chairman of the Region Four Regional Democratic Council (RDC), Clement Corlette, and Chief Executive Officer (CEO) of the National Drainage and Irrigation Authority (NDIA) Lionel Wordsworth were unavailable for comment.
Water had already covered the section of the road where the culvert was embedded when Stabroek News visited the area yesterday; this according residents, is a clear indication that the water level in Dochfour is rising.
Residents also reiterated their need to know where the proposed trench running from the East Demerara Water Conservancy to the Atlantic Ocean would be located, as according to them, they had learnt that it would be close to their community and some might have to move.
Thus far, the Hope koker has been relied on as the main drainage source for the community but residents have no faith in the structure. Residents believe that drainage authorities are "not doing the job as they should".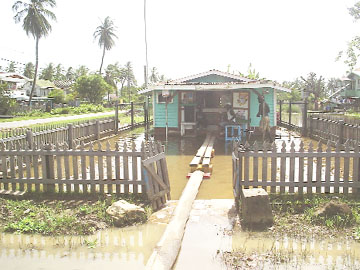 While they agreed that it was a good thing that the drainage authorities were able to relieve the community of the water, they said enough attention was not given to how they would keep the water off the land.
"Dem can't be doing things halfway, halfway… is we suffering," an upset farmer stated yesterday.
During our visit to East Coast shortly after 1 pm yesterday this newspaper observed that waters had also risen in Clonbrook and Ann's Grove.
In addition to this, the main drainage canals in these areas were heavily overgrown with vegetation.
This was evident in a section of the main drainage canal responsible for taking the water from Dochfour to the Hope koker.
Around the Web