Mohamed Irfaan Ali was sworn in as the new Minister of Housing and Water yesterday by President Bharrat Jagdeo, a responsibility which he said is critical and consistently requires a high priority on government's agenda.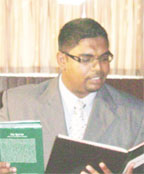 The President offered his congratulations to Ali following the brief ceremony at the Office of the President. The post was previously held by Harrinarine Nawbatt.
Up until his appointment Ali was the National Programme Coordinator of local Caribbean Development Bank-funded projects and also a PPP Member of Parliament. He had been tipped to replace Nawbatt after the former minister was handed a diplomatic post in Brazil.
Moments after he was sworn in Ali described the post as a challenging one, but declared his intention to pursue his obligations vigorously and "deliver to the people of Guyana a better quality service". The new minister noted that he will make a comprehensive assessment of the sector and determine where reforms can be implemented and work towards this, adding that there are issues such as squatting that have to be addressed.
According to Ali, he is well acquainted with the housing and water sector since he previously chaired one of the Project Steering Committees on the Low Income Housing Settlement Programme. He said too, that he gained some experience while working as an economic planner for the state many years ago.
Around the Web