Residents of a section of the Diamond community have complained bitterly about "the improper and illegal disposal of garbage and the deplorable state of the road".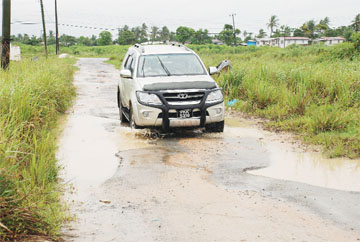 When Stabroek News visited Section A Block X Great Diamond on Tuesday, there was evidence of garbage having been dumped on the western half of the street.
Residents said the pile of garbage containing plastic bottles and food boxes did not emanate from houses in the area. They are convinced that the garbage is being dumped by persons living outside the area.
Meanwhile, residents say that the deplorable state of the road was owing to the "sloppy work" done by the contractors. One resident pointed out that numberless reports have been made to the NDC regarding the state of the road, but all they get in return are "empty promises." Another resident stated "this is unfair to us; we pay our rates and taxes and should have proper services in return."

As a result of the condition of the road, some residents are forced to use alternative streets to get to their homes. Residents in possession of vehicles have also voiced their dissatisfaction at the condition of the road stating that numerous repairs have to be made to their vehicles on a regular basis which was very costly.
Residents have also stated that taxis are unwilling to take them into the street because of the state of the road.
The residents are making an urgent call on the NDC to look into these matters.
Around the Web