– residents want road widened
Residents of Hunter Street yesterday lamented the deplorable state of a section of their street.
A visit by this newspaper to the area saw several breakages in the road leading up to the traffic light at the junction of Hunter Street and Mandela Avenue.
Residents are of the belief that the road is at its present state because of the heavy flow of traffic it facilitates. According to residents, the flow of traffic on this street is regularised by a three-way traffic light system but the road is very narrow and as such should only accommodate two-lane traffic.
Residents further explained that because of the narrowness of the road and the flow of traffic, drivers use their parapets as the road way as well, thus causing severe damage to the area just outside their gates.
One resident pointed out that "with the flow of traffic on such a narrow road, there is hardly anywhere for pedestrians to walk."
This resident added that it is dangerous to the school children who attend the West Ruimveldt Primary School which is just nearby.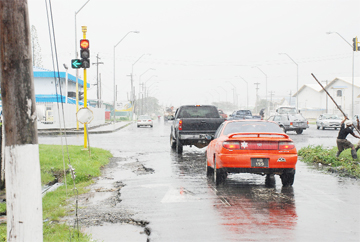 One resident remarked that "the state of this road is terrible, yuh have to be afraid to send yuh children to the shop because they can easily be hit down how the road suh narrow."
The residents of Hunter Street are recommending that the relevant authorities take the necessary steps to widen the road, thus making the passage for both vehicles and pedestrians safer.
Around the Web