– suspected cases pile up, spark fears
A post-mortem examination (PME) conducted on the body of Juliet Kissoon, who was suspected to have died of leptospirosis, put the cause of death as the result of hypertension and high blood sugar levels, relatives said yesterday.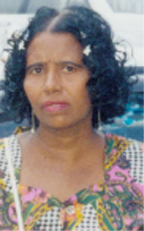 When Stabroek News visited Kissoon's Ketley Street, Charlestown home, her younger brother Sasenarine Kissoon stated that he didn't believe she died from leptospirosis. His suspicion was later confirmed by the PME results.
However, Sasenarine explained that the deceased woman displayed symptoms such as fever, diarrhoea, and headache and aches about her body. She was rushed to the hospital last Friday and succumbed to her illness early the following morning. These symptoms are all associated with leptospirosis.
Leptospirosis is a potentially serious bacterial illness that can affect many parts of the body. Infected wild and domestic animals pass leptospirosis-causing bacteria in their urine and people contract the disease by contact with water, wet soil, or vegetation that has been contaminated by the urine of infected animals. It is treatable with antibiotics and contamination can be prevented by minimizing contact with water and mud that might be contaminated with the urine of infected animals.
Symptoms include fever, headache, chills, nausea and vomiting, eye inflammation, and muscle aches. In more severe cases, the illness can result in liver damage and jaundice (yellowing of the skin and whites of the eyes), kidney failure, and internal bleeding. These symptoms are usually displayed ten days after infection.
Vincent Kissoon, another brother, told Stabroek News that because his sister displayed these symptoms he had been sure that she had indeed contracted leptospirosis. Further, the Kissoon's home had been flooded around December 15 last year and Juliet had been exposed to the water. In addition to this, rats were plentiful in the area.
Holding on to his huge brown dog, Sasenarine reported that his sister had been closer to the dog since she was the one who fed it. Juliet, he said, had displayed similar symptoms during the 2005 Great Flood.
There have been several suspected cases of leptospirosis surfacing from various flood affected areas countrywide. However, most of these reported cases are from East Coast Demerara (ECD) villages. Several children are among the group but these "suspected cases" have not yet been confirmed by health authorities.
Anola Stephens, nine, of 319 Bachelor's Adventure, has been a patient at Children's Ward at the Georgetown Public Hospital for several days. Loraine Bobb told Stabroek News that the hospital has been treating her child with antibiotics but has denied that the little girl is suffering from leptospirosis. "I had taken her to the Woodlands Hospital initially and they tested her for leptospirosis and it was positive," Bobb explained. "She was transferred here and up to now they are telling me that it isn't leptospirosis but they have been treating her with antibiotics but I don't know what for."
However, her child was "feeling much better" and was expected to be discharged today.
According to Bobb, Bachelor's Adventure had been flooded for weeks and her daughter was forced to walk through the water to get to school. "She is preparing for her national grade six exam so she had to go to school," the distressed mother said.
"I don't think enough was done for us during the flood in terms of providing health services," Bobb added. "They could've sent health teams to warn us and give us medication to prevent us from getting leptospirosis."
Meanwhile, this newspaper has learnt from sources that Royden Jackson, Abiola Smith, Sharanda Ramsay and Zalima Baksh are among the group of minors suspected to have been infected by the disease.
In addition to these several adults, some of whom are presently patients at GPHC, are among the suspected infected numbers. Among them are Anil McTurk, Bhinsen Balkaran, Onika Robinson, George McDonald and Sarwan Premchand.
One week ago, Minister of Health Leslie Ramsammy, at a press briefing said, "What we hope will not happen is an explosion of lepto cases." Further, he said that while there were reported cases of the disease none had been confirmed. To date, none of these deaths have been confirmed but the growing uncertainty of whether persons have been affected is causing some anxiety.
Around the Web