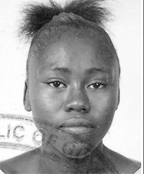 -also charged with receiving stolen Guyoil gun, ammo
Acting Chief Magistrate Melissa Robertson yesterday remanded to prison a man accused of attempted murder and receiving a stolen gun and ammunition when he appeared in the Georgetown Magistrate's Court.
Idi Bowman, 25, of 53 Robb Street was not required to plead to the indictable charge of intent to commit murder. He pleaded not guilty to the charge of receiving stolen property.
It is alleged that on November 18, Bowman discharged a loaded firearm at Sophia Pitman with intent to murder her. It is also alleged that on December 10, at Sheriff Street, Bowman received one .32 revolver and six .32 live rounds of ammunition, property of the Guyoil Company Limited, knowing same to have been stolen.
The prosecution objected to bail on the grounds that Bowman had shared a relationship with Pitman and that if he was granted bail he may interfere with her.
Bowman was ordered to appear in Court Five on January 20.
According to reports, Pitman was on her way to her mother's residence to pick up her three-year-old daughter when Bowman accosted her at the junction of Robb and Cummings streets.
He allegedly told her that he wanted to play a game and pulled out a gun which he said was loaded with two bullets, one for each of them. Bowman reportedly shot the woman under her right breast, at close range and fled the scene.
Pitman managed to run a short distance from the scene and got a car to transport her to the Georgetown Public Hospital. The woman was treated and an x-ray revealed that the bullet was lodged in a critical area, forcing doctors to abandon a planned surgery. She was then warded in the hospital's High Dependency Unit and two days later transferred to the Open Ward and later discharged.
In recalling her ill-fated relationship with Bowman, Pitman had said that she and the man had moved to the interior to work and that her relatives disapproved of the relationship and asked the man to leave. She said she opted to stay and this angered him and he vowed to exact revenge.
Pitman had also said that in February Bowman had chopped her on the hand which prompted her to end the relationship and she subsequently moved on with someone else. She said this too angered him; prompting the shooting.
Around the Web