-residents appeal for repair
Cummings Lodge residents living near to the University of Guyana (UG) access road have issued a desperate plea for smoother rides.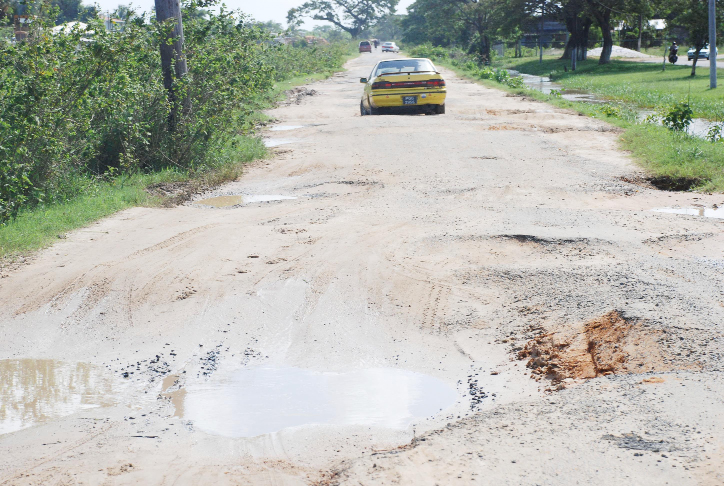 Stabroek News visited the area on Monday and severe damage to the road was evident. It has numerous potholes, huge and small, making for a very bumpy drive. According to residents, the road was hastily constructed just in time for the last elections and its present state comes as no surprise.
A cart owner noted that the heavy duty trucks that traverse the area have played a part in contributing to the deplorable state of the road. "De big …construction trucks that does drive on this road is wah really cause it fuh deh how it deh right now. Deh gat some works deh doing at de back a Sophia, an deh does use dis road fuh get in. I don't think it gah suh much fuh do with de rains, cause it went like dis even before de rainy season step in," he said.
The man further stated that many drivers find themselves fastened in the huge potholes or get their car tanks pierced when ever they get in and out of the potholes. The cart owner recounted his own experience of having his goods falling off of his horse cart when he is transporting them. "By how de potholes gat the road suh up and down it does cause me goods fuh fall off de cart when I bringing it in," he said.

Residents also said that as a result of the poor standard of the road, taxi drivers are refusing to take them to their homes.
They are forced to either come off at the UG entrance and walk to their homes or pay additional costs.
Vehicle owners have also complained about the state of the road. "The repairs is wah killing we," one vehicle owner pointed out.
Some residents are also convinced that the road has been damaged due to the heavy flow of traffic it has been facilitating since the installation of traffic lights along the embankment and East Coast public roads. "Since deh get traffic lights, most a de mini bus drivers does try fuh run away from de long wait at de lights, suh wah deh does do is use hay as a short cut fuh reach down to Town mo fast."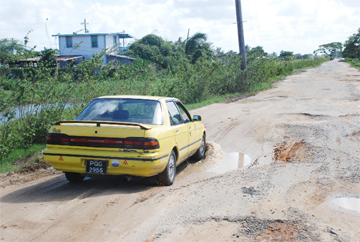 Meanwhile, residents are also complaining bitterly about the state of the bridge that links a section of Cummings Lodge to Industry. According to one resident, the bridge was not built with any engineering expertise and as such cannot withstand excess pressure. After the bridge was used by the contractors' heavy vehicles however, the bridge became severely damaged to the point where it is now in a sunken position and is under water. The residents are also calling on the drivers of heavy duty vehicles to desist from using this bridge. (Femi Harris)

Around the Web