Workers continued to places sandbags at vulnerable areas on the banks of the lower Mahaica Creek yesterday after high tides during the past three days swamped sections of the communities of Belmont and Supply.
The water has since receded leaving a muddy mess and residents of Supply told this newspaper that earlier last month they were flooded for three weeks and lost livestock. However, since Sunday, spring tides coupled with rainfall and the high waters in the Mahaica Creek resulted in overtopping of sections of the banks of the creek, flooding the communities.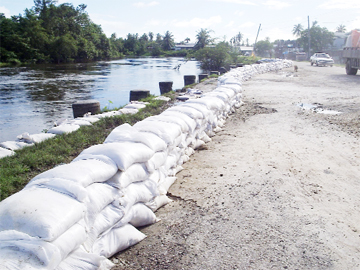 The water has since receded. At one section close to the market, a number of sandbags were placed on Monday night, a vendor told this newspaper. The Government Information Agency in a press release on Monday said that subsequent to the current spring tide and heavy rainfall, water from the Mahaica Creek has been overtopping at Supply and in anticipation of the heavy rains and spring tides, the Ministry of Agriculture had alerted the Sea Defence Department to take corrective action to raise the river embankment in this area. It stated that Farmers' Relations Specialist in the Ministry of Agriculture Parmanand Persaud said in the interest of expediting these critical works, the National Drainage and Irrigation Authority (NDIA) was instructed to undertake necessary works to prevent overtopping and avoid additional stress to the drainage system.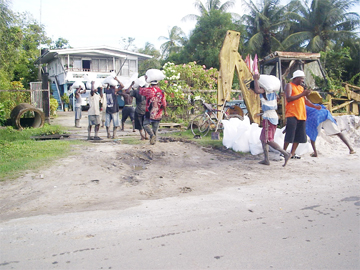 Yesterday sandbags were being laid on a low-lying section of the Mahaica Creek at Supply. The person in charge told this newspaper that sandbags were being placed for a length of "50 rods" along the dam. He said that they had placed sandbags at the market area at Belmont on Monday night and started the work at Supply yesterday.
Linda Andrews of Supply said that her yard had been under water since around Christmas time and it was only recently that it drained off though the recent high tide aggravated the situation and out of 100 chickens that she was rearing, she was left with 40.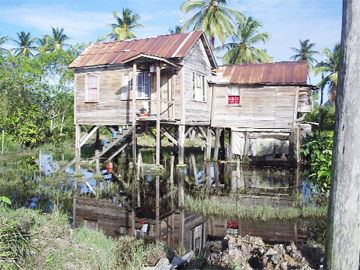 There was still some water in her yard and she declared that she was "fed-up and frustrated" with the situation. Karen Downer, also of Supply said that for three weeks her yard had been covered in water and out of 50 chickens, 40 had died. She stated though that when the water spilled over the creek's banks recently, it came off relatively quickly.
Other residents in the community were left with muddy yards when the water drained off. A few homes that were constructed on land which was lower than other parts of the area still had water on the land.
Over the past weeks high waters in the Mahaica Creek have flooded communities in the upper reaches but villages in the lower portion of the waterway have been relatively unaffected.  (Gaulbert Sutherland)
Around the Web