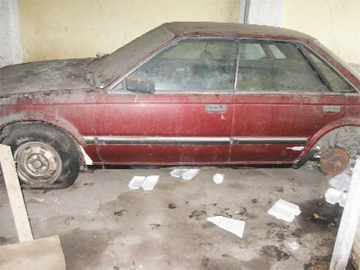 -says traffic charges "trumped up"
Six years after his car was impounded by traffic ranks for what he calls "trumped up" charges, Mark Benschop is still awaiting the release of the vehicle which is now in a deplorable state in the Brickdam Police Station compound.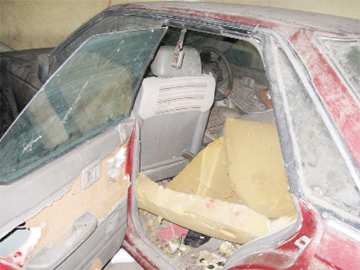 He is now demanding his vehicle but says he cannot accept it in its present condition as when his car was impounded it was in good condition.  When he brought the matter to this newspaper's attention Benschop explained that back in 2002 he was a member of a march by the minibus association and was part of a procession where he was singled out by a police officer who asked him what he was doing there. He said in his reply he told the officer he was a part of the march like everyone else.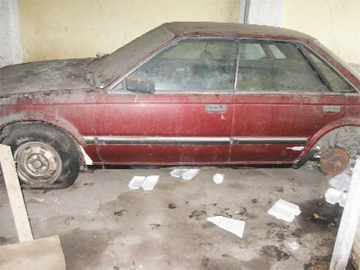 Benschop said the following day traffic ranks showed up at his home and towed the vehicle away and he was then placed before the Providence Magistrate's Court charged with driving without a licence and dangerous driving.
He explained that he was never pulled over by a policeman and asked for records neither did he have any problem with his driver's licence.
According to him the then magistrate had ordered that his vehicle be returned. Benschop said up to one week before he was placed in prison for alleged treason he enquired about his vehicle but was not given any real answers.
Up to now the Nissan Blue Bird with number plate PGG 9169 remains in the police station compound.
He said the vehicle's seats have been ripped, its battery is missing and toilet tissue, condoms, and beer bottles among other items were found in it.
"I am calling on the police to replace my vehicle," he said. Asked whether he had approached the police on the matter, Benschop said he recently spoke with Commissioner of Police Henry Greene who he said advised him to take his vehicle and then have his attorney file for compensation.  Efforts to contact the commissioner on this matter proved futile.
However recently transferred Commander Leroy Brummel when approached about the issue told Stabroek News that the matter has never been brought to his attention even though he has seen the car parked in the compound. Brummel also said that Benschop has never brought his concern to his attention.
Around the Web