Two cousins are counting their lucky stars after they barely escaped being crushed under a minibus.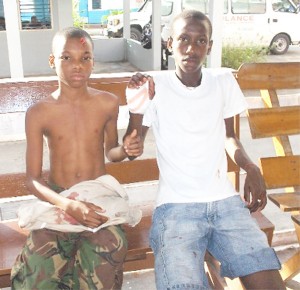 Fifteen-year-old Wayne Lewis and 13-year-old Shaquille McKenzie both of Lot 'C' Norton Street, Lodge barely missed being seriously injured after they plunged off their bicycle when they were hit by a route 48 minibus at Vlissengen Road and Mandela Avenue yesterday afternoon. While the two of them jumped to safety and escaped with bruises and cuts, the bicycle they were riding remained stuck under the front wheel of the bus, BJJ 4360, while a car, PKK 6652, which was coming from the same direction as the boys was hit by the bus.
When Stabroek News spoke to the boys at Georgetown Hospital they said that they were coming from South Road and were given the green light to turn into Vlissengen Road. McKenzie said that they were clearing the intersection, to go over by the 1763 Monument when a green minibus hit them. "We jump off the bike fuh save we life."
An eyewitness at the scene of the accident said that from her vantage point she thought she was seeing an action movie. "Them boys do a Jet Li boy," she said excitedly, "is da jump save they life."
Meanwhile the driver of the minibus said that he was on the inside line on Mandela and the light to turn into Vlissengen Road was green. He said that he was about to turn when the bicycle "come out of no where." The car was just on the tail of the bike.
When this reporter observed the light system both parties involved could have indeed had the green light; but the vehicles on the inner line to turn into Vlissengen should have to observe vehicles coming from Vlissengen road since those drivers' vision could be blocked by the outside line on Mandela which is waiting to go over to Croal Street.
Lewis and Mackenzie were both treated at the hospital and sent way. Their relatives, on hearing of the accident, gathered at the hospital. They were overheard expressing thanks for the boys' spared lives.
Around the Web