Cheryl Sampson, the National Chairperson of the National Congress of Women (NCW), was on Thursday sworn in as a new member of the National Assembly.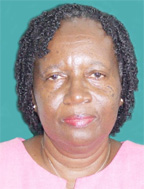 She has replaced, former PNCR-1G MP James McAllister – who was last month officially removed from the National Assembly under the controversial recall legislation which was passed by a constitutional amendment in 2007.
Sampson is a long-standing member of the PNC, and has served in several capacities within the party, including being the National Chairperson of the NCW and a member of the Central Executive Committee of the PNCR for the last fourteen years. Additionally, she was elected as the National Women's representative on the Ethnic Relations Commis-sion (ERC), and also serves as a Commissioner on the National Commission on Women and as an Executive Committee Member of the Caribbean Women's Association.
The new MP is a trained teacher and is currently the Head of the Georgetown In-Service Centre of the Cyril Potter College of Education.
Around the Web