Acting Chief Magistrate Melissa Robertson on Thursday granted Oliver Hinckson a $200,000 bail reduction after his attorneys submitted that he had various financial commitments to meet.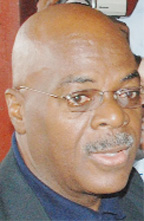 Hinckson was granted $1 million bail by Robertson on October 9 last year on his advocacy of a terrorist act charge.
It was then, after several attempts by his lawyers, the ex-army officer was granted his pre-trial liberty.
Attorney-at-law Nigel Hughes made an application for Hinckson's bail to be reduced by $500,000 since, according to him, his client had standing financial commitments. However, Special State Prosecutor Sanjeev Datadin objected to this application.
Datadin submitted to the court that if Hinckson was granted the application then he may flee the jurisdiction. Hughes, however, pointed out that his client was granted permission by the High Court to leave the jurisdiction previously.
Hinckson is not a flight risk because he has returned to court even after he was granted permission to leave the jurisdiction, Hughes explained.
After careful consideration of both parties' submission the Acting Chief Magistrate granted bail reduction at a reduced sum than was originally applied for.
A total of $200,000 was ordered deducted from Hinckson's bail.
Hinckson was charged on March 11 with advocating the commission of a terrorist act and uttering seditious statements.
The second charge stemmed from a statement he made during a press conference at City Hall.
The Preliminary Inquiry (PI) into Hinckson's matter of advocating a terrorist act is still in progress.
However, the two witnesses who were to give evidence at Thursday's proceedings were absent.
Magistrate Robertson adjourned the matter to January 29 when the PI is expected to continue.
Around the Web