The Guyana Defence Force was yesterday presented with four complete computer systems, printers and other accessories by the Military Attaché to the Brazilian Embassy in Georgetown, Colonel Eudes Carvalho Dos Santos.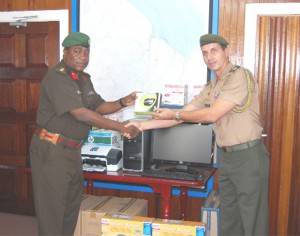 A GDF press release noted that the presentation further  strengthened friendship and cooperation between them and the Brazilian Armed Forces.
The computers and accessories are valued at $1.2M  and include four systems complete with 22" LCD monitors; four HP Office Jet All-in-One printers; four 550 VA battery backup systems; 600 watts Tripplite stabilizers, and four complete computer workstations.
At the handing over ceremony yesterday morning, Colonel Eudes said that the gift of the computers and equipment was a commitment by the Brazilian government to strengthen the operational capability of the GDF.
According to the release, he expressed the hope that the equipment will be used to enhance the training and operations of the Jungle Amphibious Training School (JATS) of the GDF. In addition, he said,  a generator has been bought for JATS and is being shipped to Guyana from the UK.
And in accepting the computers and equipment on behalf of the GDF, Colonel General Staff of the GDF, Colonel Mark Phillips said that once again the Brazilians have fulfilled their promise by providing the technological tools to boost the work of the new JATS Command Centre at Makouria, which was handed over to the GDF a few weeks ago.
Around the Web