Three gun and cutlass-wielding men yesterday morning shot and killed a Mahaicony coconut estate caretaker and assaulted his wife in front of their one-year-old son before escaping with a shotgun, cash and jewellery.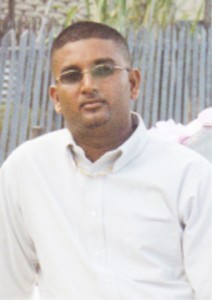 It was just after 11 am yesterday when 31-year-old Muneshwar Paragass was interrupted from putting his son to sleep reportedly by gunmen who blasted him to death as soon as he opened his door at the Letter T Estate.
The men then tied up his wife Shrimattie, known as 'Nadia', and escaped with $30,000, jewellery and the man's 12-gauge shotgun.
The murder, which has thrown residents of the Airy Hall, Mahaicony community into mourning, happened just days after the couple's home was raided by unknown persons while they were out.
Police in a release said that the man was murdered at around 11:55 am and according to the lawmen the man and his wife were alerted that something was wrong when they heard their dog barking. The husband went to investigate and shortly after his wife heard a loud explosion and her husband of ten years screaming.
The release said that the woman was later confronted by  three men, two of whom were armed with guns and the other with a cutlass, who proceeded to tie her up and then took away the cash, jewellery and shotgun.
The woman eventually managed to free herself and upon checking she found her husband had been shot and killed, a bullet piercing his chest.
When Stabroek News visited the home yesterday afternoon  Shrimattie was sitting in a hammock slipping in and out of consciousness. Relatives said she had to be rushed to the Mahaicony Hospital for treatment earlier in the day. Blood was seen on the platform of the house indicating where the man fell after he was shot.
Several shocked residents had gathered at the home, along with the owner of the estate, businessman Vic Oditt. He told Stabroek News he was still attempting to get the details of the incident from the police. He said that the estate was "a relatively safe area" and it was the first time something like this had happened. Police were still on the scene conducting investigations and were reportedly scouring the bushy area around the house for clues.
At the home of the man's mother, Chandrowtie in Airy Hall, the couple's two children, one-year-old Nishall, and eight-year-old Manisha who was away at school when her father was killed, were being comforted by relatives. "Me son father dead when he was four-year-old and he never get to know he and now he come and dead and he son go never know he," the woman lamented.
She told Stabroek News that her daughter-in-law related that the couple was putting the little boy to sleep when they were interrupted by a rapping on their door. Her husband left to open the door and she was following him when she heard a gunshot.
"She say she tun back and bolt up the room door but dem keep banging on the door and tell she to open it and she say before they kick it down and kill she and she son she open deh door," the woman said. The men then bound and gagged the woman before escaping with the items. Minutes later the woman managed to untie her hands and called her mother-in-law.
However, she did not immediately inform the woman, who had seen her son about an hour earlier, that he had been shot. "She ask fuh me husband and I tell she he ent deh and she say alright and hang up.
But I hear like she crying and I know it was something to do with me son but I thought he was in an accident because he get a bus." But it was about half an hour later her daughter gave her the shocking news that her only son had been shot and killed.
A sister of the woman lamented that her sister "walk and sell sugar cane" to support her two children after their father died and now bandits had cruelly snuffed out the life of her son in the prime of his life.
Relatives of the young man, who said he was working at the location since he was 16-years-old, said they were all concerned for his safety because of the distance of the estate from the nearest community, Airy Hall.
While there are four buildings on the estate, most of them are dilapidated and the house Muneshwar and his family lived in was the only one occupied.
The coconut estate is overgrown with bush and the area is desolate but there is a watchman at the location during the night.
Persons  said that Muneshwar never liked to leave his wife and children alone at home because of its isolated location. It is believed that because of his fear he was planning to move to Canal Number 2 to oversee farmland and a relative's business.
"He tell me this morning how he moving and I tell he a go bring me family to spend a day with them," a cousin said.
They said the young man worked his bus for special hire from time to time and he would also drop many of the school children in the area to school.
When Stabroek News was leaving the area residents were erecting a tent for a wake at the home of the man's mother.
Around the Web