Guyanese jurist Mohamed Shahabuddeen has been elected to serve as a judge on the International Criminal Court (ICC), one of six new judges elected recently.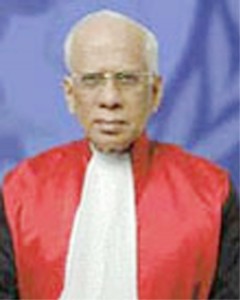 The Coalition for the International Criminal Court in a press statement said that on Monday and yesterday during the first Resumed Session of the Seventh Session of the Assembly of States Parties (ASP) at the United Nations Headquarters in New York, the ASP elected six new judges to the ICC bench. Each of the elected judges will serve nine-year terms.
Judges were elected by a two-thirds majority of the 108 States Parties present and voting (a minimum of 72 votes was required for election).  These judges will be replacing those whose terms expire in March 2009.
The statement said that in the first round of balloting, Shahabuddeen, a former attorney general of Guyana, was elected with 79 votes as was Fumaiko Saiga of Japan, who received 72 votes. Both candidates were listed as possessing "List B" qualifications
According to the statement the requirements were that candidates shall have established competence in criminal law and procedure (list A candidates) or in relevant areas of international law (list B candidates). "States Parties must also take into account the representation of the principal legal systems of the world, equitable geographical representation, a fair representation of female and male judges, and judges with legal expertise on specific issues including, but not limited to, violence against children or women",  the release said.
It noted that in the second round of balloting, no candidates were elected because none received the requisite two-thirds majority of votes.  In the third round, Cuno Tarfusser of Italy was elected with 74 votes, but no other candidates reached or surpassed the two-thirds majority threshold so a fourth round of balloting was required, which resulted in the election of Sanji Monageng of Botswana with 75 votes.
In a fourth round of balloting, Christine Van Den Wyngaert of Belgium was elected with 73 votes. After five more rounds of balloting, Joyce Aluoch of Kenya was elected with 100 votes.
Shahabuddeen, who was born in 1931 has occupied many judicial and governmental positions in Guyana, including those of Attorney General and Minister of Legal Affairs. He also served as a Judge at the International Court of Justice from 1988 to February 1997, and has worked as an Arbitrator and Consultant in international law.
"The judges elected will arrive at the Court at a crucial time in history, where Pre-trial chambers are setting important procedural landmarks, trial chambers are dealing with the first trials and appeals are establishing jurisprudence for the future. Only with a large pool of good candidates to choose from will the states be able to provide the Court with the quality judges it deserves", the statement asserted.
Around the Web