Veteran broadcaster Ayube Hamid Khan known as Ayube Hamid passed away yesterday morning at his Hadfield Street home and was laid to rest in the afternoon after a Muslim ceremony. He was 82 years old.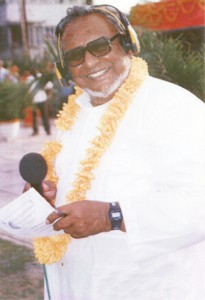 Hamid, who was well known for the Ayube Hamid Show and the Indian Memory Album aired on The Voice of Guyana on the National Communications Network (NCN) radio, collapsed at around 5 am during preparation for his customary morning devotion. He also hosted a number of Islamic religious programmes.
He suffered from heart complications, his daughter Safiyya Khan told Stabroek News yesterday.
Hours before his death, Hamid also visited the NCN studio where he did his usual pre-recordings of his programmes.
His broadcast career with the then Radio Demerara dates back to the early 1950s when he emerged  as a passionate broadcast journalist and was later held in high esteem for his willingness to guide youngsters in the profession.
Terry Holder who served as General Manager at the time Hamid was Sales/Marketing Manager, described him as a person who was extremely passionate about what he did and demanded excellence.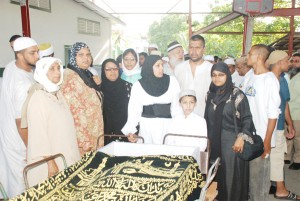 He recounted that  Hamid did well in the industry when the young broadcasters had veterans to hold their hands and guide them as he was one who was willing to always give of his time to show them the "dos and don'ts" in broadcasting.
He pointed too to Hamid's dedication to his religion and said he felt second to his greatest love may have been broadcasting. "The broadcast industry will surely miss him," he added.
Another broadcast veteran, Vic Insanally said he was shocked and saddened by the sudden death. "He is one of the original voices around and when it seemed as though many lost the appetite for it, he still found joy in doing it," Insanally said.
He recounted that Hamid along with Rafiq Khan were great mentors to budding broadcasters and helped them to identify their talents and led them in that direction.
"An ardent Muslim and extraordinary broadcaster" was how he described Hamid who he said was long established in the field before he entered.
Radio announcer Julie Lewis said it was the authority of his voice and the clarity of his enunciation as well as his dedication that struck her about Hamid.
When Lewis joined radio, Hamid was already there well over 30 years. "I was struck by his love for radio. He was always willing to give advice to the younger ones," she said.
"Intrepid,"  Hugh Cholmondeley, a colleague and friend of Hamid, said is the only word that appropriately described him.
The two had been friends for more than 50 years.
Cholmondeley said he would never forget the respect, support and advice Hamid willingly provided for aspiring youngsters whether their interest in music was jazz, calypso, classical music of all types and cultures or the emerging musical forms of ska and rock-steady.
He said Hamid's service to his listeners remained his high guiding principle which stayed with him throughout his long and illustrious career.
"Ayube Hamid's singular contribution to culture in Guyana has been made. His shoes are not likely to be filled for a long, long time, if ever," he said.
Fellow broadcaster Margaret Lawrence had worked alongside Hamid since 1982 when she joined radio. She described him as friendly and willing to share his knowledge as long as one was willing to heed advice.
He paid meticulous attention to pronunciation and language in general, Lawrence related.
He was very careful with his delivery and thought that the radio should provide an example to its listening public, Lawrence said.
There was a lot to admire about this legendary broadcaster including his knack for doing a lot of research before he embarked on anything new, something which any broadcaster worth his salt would love doing, Lawrence said.
Lawrence said that she had a lot of respect for the man, who despite his failing health faithfully recorded his programmes and enjoyed doing it.
Despite short notice, the funeral ceremony held yesterday at the Muslim Youth Organisation (MYO) according to Muslim rites saw a large turnout.
His nephew Kashir Khan who spoke on behalf of the family at the funeral service yesterday, fondly remembered the strictly religious uncle who would give him $1 for each day he fasted during the month of Ramadan.
Hamid who leaves to mourn one daughter, a grandson and other relatives was interred at the Le Repentir cemetery.
Around the Web