Jeweller Sanjay Persaud on Tuesday pleaded guilty to being in possession of more than $12M in illegal fuel and was fined $3M by Magistrate Fazil Azeez at the Bartica Magistrate's Court. While the matter was set for yesterday it was instead heard on Tuesday on the first day of the court's sitting.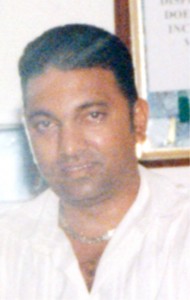 Persaud was represented by attorney-at-law Mohamed Zaffar while attorney Euclin Gomes held for Guyana Energy Agency (GEA) prosecutor, Anil Nandlall.
The jeweller was charged with being in possession of illegal fuel, contrary to Section 519B of the GEA Act 1997, as amended by Section 4 of the GEA Amendment Act 2004.
The charge stated that the defendant on November 28 on the MV Captain Nicholas in the Essequibo River, in the vicinity of Bartica, had in his possession a quantity of illegal petroleum, to wit diesel, which did not contain the marker in the required proportion as determined by the minister.
Stabroek News was told that Persaud's employees were on the vessel when it was stopped by GEA officials.
Statements were taken from them and Persaud who was contacted later gave a statement to the police.
It is understood that some 14,000 gallons of fuel was on board.
Persaud was expected to appear before Magistrate Azeez on December 17 last but the case jacket never made it to the courtroom.
Stabroek News was reliably informed that the charge was filed in Suddie and the jacket was expected to be taken to the courtroom but it was not there when the matter was called.
Around the Web