Former First Lady Varshnie Singh yesterday said her nine-year marriage to President Bharrat Jagdeo was never registered.
The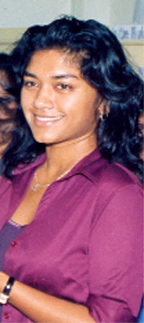 couple were married according to Hindu rites in 1998 and Singh told reporters that there were at least three attempts to register the union. She said on the first two occasions the President said he had lost the forms. By the time third attempt was made, he had assumed the presidency and had informed her that he could not be subjected to court proceedings and with that in mind she took the decision not to sign any legal documents. Singh initially did not think there was a wilful attempt to stall the process but admitted harbouring doubts in retrospect.
Singh does not have a lawyer but she is considering engaging a local firm to represent her. However, she noted that the law stipulates that in the division of property, a woman in a common-law marriage is entitled to a share of the property acquired during the marriage. She said she was a housewife during the years in the marriage before she began work with the children's charity, the Kids First Fund.
The couple split in 2007 and have been working on a settlement since then. But last Tuesday Singh went public with complaints she did not receive proper maintenance or care during the marriage and said the Office of the First Lady was a "myth." The previous day she had been locked out of State House on the instructions of the President and told reporters at the news conference that she had no clothing apart from what she was wearing at the time. "That was hardest thing I ever had to do in my life," she admitted yesterday.
Singh will return to the UK on Tuesday to conduct fundraising activities for the Kids First Fund. She will return to the country in April, but met with reporters yesterday to clarify aspects of her statement.
She said her decision to go public was a last resort and emphasised that she is a "private person" but she did not see any other way. "I didn't want to do what I ended up having to do," she explained. "It wasn't a joyful thing to bare your soul to the nation." She added that she thought going public could have been avoided if the couple had agreed on an amicable parting. "I wanted to avoid conflict because he is powerful and I am an ordinary person and even if I know I tell the truth it can be spun around."
Asked to react to critics who might say she participated in a "sham" by remaining in the union, she said, "I would say guilty as charged, but I didn't know what else I could do. She added that she tried every single year of the marriage to get the President to agree "to call it a day" and agree to a settlement.
She dismissed the suggestion that the union was a marriage of convenience, arranged to enhance the then junior minister's candidacy to assume the presidency. She recounted that she first saw Jagdeo when he was still Finance Minister and made his first budget presentation to the National Assembly. They met the next year at a party fundraiser in the UK and a friendship subsequently developed, she said, noting that they had similar ideas about the development of the country. She admitted that Jagdeo was "anxious" for marriage, noting that although she had suggested an engagement he insisted on marriage. "…They say women drag men up the aisle − it was the other way around," she said, adding that she was convinced the relationship was sincere: "I thought we were in love… It was a normal relationship."
She said the first week into the marriage she was locked out of the couple's bedroom. She could not explain the President's behaviour, saying he was angry and she did not know why.
Singh noted that she had returned to UK in 1999, a year after the couple were married, to further her studies. She said she had resolved not to return but had been asked by Jagdeo to attend his swearing in when he assumed the presidency that year. She recalled a kind of "pressure," with the elections having been dubbed by the opposition as rigged. Singh agreed to attend and arrived on the morning of the swearing in, travelling directly from the airport to the ceremony.
The next year, the case that led to her creation of the Kids First Fund presented itself and she was unable to leave, although she had initially planned to hand over the organisation to someone else. "I kind of got stuck," she said.
Explaining the decision to remove Singh from State House, President Jagdeo in a statement said it was expected that she would have left State House when they announced their separation. He pointed out that at the end of his tenure as president in 2011 he would also have to leave the residence. He explained that he was "forced" to make a "painful decision" and take steps to have Singh leave, since she refused to do so despite numerous promises.
In response to Singh's charges that he denied her access to resources to support her charity work, the President said that he made it clear to her on more than one occasion that the resources of the state could not be used to support the work of a private charity. "…I sought to keep a certain distance from it so as to avoid accusations that the fund was benefiting from the patronage of the state because of the presence of my wife," Jagdeo said, adding that it would be unethical for him to allow it. "She was therefore free to undertake her work with the clear understanding, as she acknowledges, that there were to be no special favours involved."
On the division of assets, Jagdeo said the issue was jointly discussed with his lawyer and he showed her copies of his declaration of income and assets to the Integrity Commission over the period that they were together. "I am prepared to meet all my obligations to her provided for by the laws of Guyana," he declared, adding that he could not meet her demands to hand over government lands and other assets and provide duty and VAT-free concessions as part of the settlement. He said Singh could access these as any other eligible Guyanese citizen.
Around the Web