-denies Khemraj Dhani's version

A pregnant 17-year-old Sunita Dhani miraculously climbed through a bathroom window as her father wreaked havoc with a gun he had in his hands when he crashed into their Florida home through a window on December 20, 2008.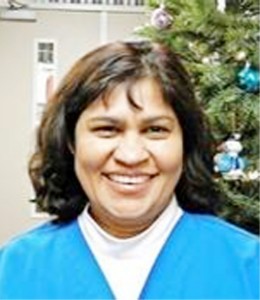 At the end of the drama, Khemraj, 51, and Kalowtie Dhani, 49, lay dead while Bridjnath (only name) was mortally wounded after sustaining five gunshot wounds. He succumbed on December 26 at the Lakeland Regional Medical Center. All three were from Canje, Berbice. Khemraj, had forced his way into his wife's Polk County, Florida home and went on the murderous rampage because he angry over a divorce settlement which saw him losing his house and being forced to live in a car.
Sunita recalled to The Ledger.com that her father was trying to break into the bathroom as she frantically wriggled herself through the window.
"He was trying to beat it down," she recalled. "As soon as my feet hit the ground outside, he was crashing through it," the young woman, who was six months pregnant at the time, said. She told the paper that her squeezing through the bathroom window makes no sense to her right now.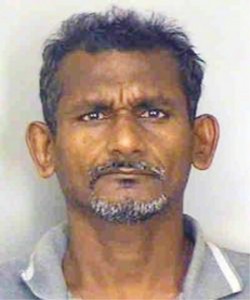 But what does make sense to the teenager is that she would have been dead if her father had found her that fateful night.
"I know he would have killed me, because he'd told me, over and over, that he would," she told The Ledger.com. "He said he'd kill my mom, then himself, and he didn't want to leave me without any parents."
She now grieves for her mother, an obstetrics nurse, who was found in her daughter's room by deputies.
Not true
And while Khemraj claimed in a tape recording, police found in his pocket, that he was pushed to the dastardly act due to the unfair divorce settlement that saw him losing his house to his wife and being forced to live in a car, Sunita told The Ledger.com that none of it is true.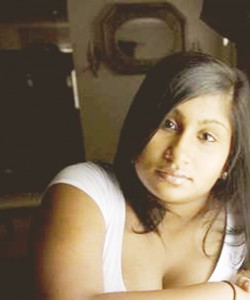 "When he had the house, he let it go into foreclosure," the young women, who recently turned 18, said. "My mom had to buy it back before the bank got it, and that's when we were allowed to move back in.
"But he'd taken everything. He took all the appliances out, and ripped out the wiring for the security system. He just destroyed our house. We had to get all new appliances, and he did it just to be mean."
However, in his tape recording Khemraj was recorded as saying: "When you see me kill my wife and … ex-husband, don't blame me, blame the court system where you get in Bartow and the three judges what involved in the case … they put me on the road so she can live with another man in my house that I work and sweat for," he said on the tape.
"She took everything, all my money and everything … she took every cent I worked for," he said.
"Everybody push me around, I hire two lawyer (and they did not represent me)," he said. "I am an idiot I don't have no education so they can do me this. I am an idiot …
"Do you think it's fun to live on the road? And you work so hard for what you get… Everybody want my money, money, money. I work like a slave… "
"I can't live like this in my car… I don't have a proper rest when the night come, so this is it. I've had enough now," he said, according to the transcript.
Khemraj also said he was angry that his daughter was being told to call another man her father.
But Sunita said that her parents divorced last year February and her father never got over it and kept harassing her mother forcing her to get a restraining order. But even with the order granted she said he kept driving past the house all the time.
"He had a lot of jealousy," she said. "He talked about killing himself and of killing me and Mom.
"Before, she (Kalowti Dhani) had never left him because she was scared for what he would do," Sunita told The Ledger.com."Then she decided she wasn't going to live her life in fear anymore."
'Get out'
According to The Ledger.com Kalowti started her nursing career here in Guyana where she practised midwifery and taught nursing while she and her first husband, Bridjnath, raised their daughter, Esme, and son, Hardat.
When that relationship crumbled, doctors recruited her to Barbados and it was on that island she met Khemraj and gave birth to Sunita. A year after their daughter's birth, in February 1992, the couple was married in Guyana.
Sunita said she was still a child when they moved to New York and then Florida.
"There were always problems," she recalled. "He broke tables and phones with a baseball bat, and it would get really bad when he would drink," The Ledger.com quoted her as saying.
She said on the night her mother was killed she was recovering from a hysterectomy a week earlier. Bridjnath, who had moved to the US in 2005, had visited to help her, since she was limited in what she could do for herself.
"He'd help her get in the shower and do things around the house," Sunita said. "That was all."
The young woman said she was sitting on a couch in a corner when her father broke through a window and started shooting,
"My mom told me to get out, so I ran to the bathroom and locked the door behind me," she said. "I don't think he knew I was there when he came through the window."
The bathroom window was over her head, but Sunita managed to climb up to it and break through. "He started breaking down the door as I went through the window," she said. "I was really scared."
Sunita spent the night at the hospital her mom worked at to ensure her baby was okay. She went back into the house after her aunt and uncle cleaned it up.
"I could see a bullet hole in my bedroom door, and there was a bloody handprint," she said. "I know they found her (Kalowti) in my bedroom, and the blinds were up in there. I know she tried to get out. She was trying to get out the window. But she had just had the surgery, and she was still weak."
A valued friend
Meanwhile, colleagues at the Regency Medical Center in Winter Haven recalled that Kalowti was too scared to leave Khemraj initially. "We were scared for her, because we knew what she was going through," Cheryll Howe, a registered nurse who worked with Kalowti told The Ledger.com. "She lived a very scary life."
"We just tried to comfort her and be there for her," said Michelle Lloyd, manager of labour and delivery at Regency
Angela Shank, another registered nurse, said Kalowti always hoped things would get better.
"She was always so supportive of the rest of us, telling us everything was going to be OK," Shank said.
Kalowti worked the night shift at Regency. Dr. Tony Mancini, an obstetrician and gynaecologist who worked with her for the decade she spent at Regency, said her cheery demeanor and nursing skills made her a joy to work with.
"She was a consummate professional," he said. "She was always on top of things. When things got tense, she had an ability to calm patients down, which made it easier for the rest of us to do our jobs.
"We're really going to miss her here."
Kalowti's friends at Regency held a candlelight memorial ceremony for her in the hospital's courtyard last week Thursday, remembering her life and the joy she brought to their lives.
Remember mom
And Kalowti's eldest child Hardat Bridjnath, 26, said he wants his mother remembered as a loving and kind person.
"I don't want people to judge her from the record (Dhani) left," he told The Ledger.com said after a recent memorial service at Regency. "He left a bunch of lies and made my mom and dad seem like they were horrible people, and they weren't. All they did was care about people and us."
Sunita said she'll miss her mother the most when her own daughter is born in April. But she plans to incorporate her mother's name into the name she gives the baby.
"Right now, I feel that my mom would want me to be strong," she said. "She wouldn't want me to stay at home and cry, and not try to help myself."
Sunita is living with her boyfriend's family in Lake Wales now, and though she left high school because of all the problems with her family, she's hoping to finish her education soon.
"All I can do is make (my mom) proud, and that's what I want to do," she said.
Around the Web