A mason, who was allegedly found with an unlicensed gun and spent shell in  his possession shortly after he had allegedly robbed a woman of a gold chain and two gold rings, was remanded to prison yesterday when he appeared before Magistrate Hazel Octive-Hamilton at the Georgetown
Magistrate's Court.
Roberto Carrington, 25, of 1393 Cummings Park, Section E, Sophia, was not required to plead to the indictable charges of robbery under arms and discharging a loaded firearm. However, Carrington pleaded not guilty to the charges of unlawful possession of a firearm and ammunition.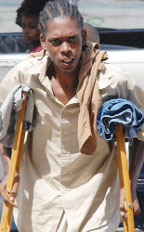 It is alleged that on November 4, 2008, Carrington used a gun to rob Courtney Atkins of a gold chain and two gold rings valued $130, 000.
It is also alleged that Carrington discharged a loaded firearm at Atkins, with intent to maim, disfigure or cause her actual bodily harm.
Carrington is also accused of having in his possession the same day, a .32 spent shell and a .22 pistol without being the owner of a firearm license.
His lawyer, Satyesh Kissoon, applied for bail for him on the grounds that he is a father of one and that he is the sole bread winner of his family. Kissoon also stated that if Carrington was granted bail he would return to court.
However, the prosecution objected to the bail application on the grounds that the information that Kissoon had given the court differs from that that Carrington had given the police. The prosecution stated that Carrington had told the police that he was a painter, a father of two and that he lives in South Sophia. The prosecution went on to say that the bail should also be refused because of the seriousness and prevalence of the offence.
The magistrate then stated that Carrington's lawyer had not presented any special circumstance for the bail application to be granted and ordered that Carrington be remanded to prison and reappear back in Court on February 10.
Around the Web