A 63-year-old differently-abled woman is grateful that she has survived a vicious attack by two dogs on Sunday night.
Bibi Khan, who was born with part of her left arm missing, was attacked by two dogs belonging to a neighbour, with whom she shares a compound. The neighbour is her relative with whom she has an ongoing dispute over property.
According to Khan, she returned to her Thomas Street, Kitty home around 7 pm and decided to go into the yard to pick up some clothes before taking a bath.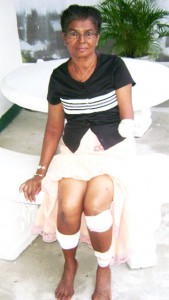 She said that while she was picking up the clothes, the two dogs attacked her. Khan said one rushed to her feet while the other jumped on her defective left arm. Khan said she tried to fight off the dogs while screaming and was only saved by the quick response of her nephew, who chased the dogs away with a piece of wood.
The woman was subsequently taken to the Georgetown Public Hospital, where she was treated for injuries to her hand and legs. At present, both of Khan's legs are bandaged as well as her defective arm, as she was bitten several times.
One of these bites resulted in her losing a piece of the flesh on her right leg, Khan told this newspaper
According to Khan, the relative has seven dogs who roam in the yard all day, but this was the first time any attacked her. The dogs, she said, are mixed-breed and are very big and in recent weeks she has observed them becoming more vicious.
She told this newspaper that recently her relative has taken to feeding the animals bloodied meat and this may help to explain their behaviour. Meanwhile, Khan was grateful that the other five did not attack her since she is convinced she would have been dead.
The woman told this newspaper that the relative is yet to apologise or to render assistance in any way. However, Khan has reported the matter to the police and she intends to take the matter to the courts.
This attack is the latest in a spate carried out by dogs on various persons across the country.  In November, a six-year-old girl of Hadfield Street was attacked by a hybrid pit bull. Last April, security guard Charles Roopchand was killed by a pack of dogs on the Ogle Airstrip road while on his way to work.
The same dogs had also attacked Desiree London, who was bitten on her arms and leg.
In another incident last year, a Tucville resident was alleged to have loosed dogs on a group of children who were proving to be nuisances.
And in 2007, two pit bulls had attacked a North Ruimveldt man, seriously injuring him. He had to undergo several operations to repair his damaged ligaments and was to have gone overseas for treatment.
Around the Web