– at GRFU appreciation  ceremony for sponsors
By Kizan Brumell
CEO of Guyana Telephone and Telegraph Company Ltd, (GT&T) Retired Major General Joe Singh has commended the Guyana Rugby Football Union (GRFU) and committed his company's support once more to the organization.
"When we are approached for sponsorship we look at a lot of things. We need to see if the approaching organization has a plan, their balance, where they are heading and they have to be accountable so we can see that our investment has made a great impact," Singh stated Tuesday at a reception held by the GRFU at Duke Lodge, Kingston.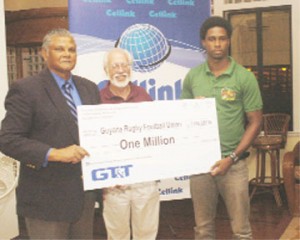 "The GRFU makes it their duty to send us a report on what they have done after we have budgeted them money to show us where our money was spent after every tournament and I commend them for this and that is why we will continue to support them in the development of rugby," Singh added.
On Tuesday GT&T handed over a sponsorship cheque of $1M to the West Indies Rugby Union (WIRU) in support of the Rugby West Indies team which will be participating in the IRB Sevens World Series in Hong Kong from March 27-29.
President of the GRFU Noel Adonis in brief remarks at the ceremony, thanked the sponsors who support the GRFU, and who were given tokens of appreciation.
"We started 2008 with a deficit and with tournaments scheduled for Barbados, Cayman Islands and (The) Bahamas, we immediately started fundraising activities realizing we had to take part in the tournaments.
"I think the players also need to be thanked for ensuring that whatever people invested in the GRFU they used to the fullest and showed that Guyana has progressed in the rugby world.
"We again are the men's Seven Champions for the third consecutive year while the women have captured the Caribbean Seven's title for the first time," Adonis pointed out.
"Our success differed in the way that our Under-19 team did not perform as expected by placing fifth in the International Rugby Board World Trophy Qualifier in Barbados," Adonis added.
He said also that the GRFU was looking forward to bigger and better things in 2009.
The GRFU formed partnerships with 30 companies last year who made both large and small contributions, all of which Adonis said were significant.
Tuesday evening's Master of Ceremony was Kit Nascimento, president of the West Indies Rugby Union.
Nascimento disclosed that the GRFU will approach the Minster of Culture, Youth and Sport, Dr. Frank Anthony, for permission to host tournaments at the Providence National Stadium in an effort to develop Guyana as a rugby-playing nation.
Certificates were presented to the sponsors who were present but the GRFU extended its  gratitude to the following: C&V Shipping, Humphrey's Bakery, Nigel's Supermarket, Jus' Water,  Medicare Pharmacy, IPA, Pharmagen Enterprise, Geddes Grant Ltd., Beckles Lumber Yard, Brans Security Services, Cara Hotel, Dalip Trading, De Sinco Trading, Demerara Distilleries, Demerara Bank, E-Networks, Top Brands, Banks DIH, John Fernandes Ltd.,  Guyana Defence Force, Laparkan, German's Restaurant, Guyana Olympic Association, Ming's Products and Services, Ram & Mc Rae, Caribbean Airlines, Roraima Airways, Demerara Mutual Life Insurance, Ansa McAl, Edward B. Beharry and Company and Guyana Telephone and Telegraph Company.
Around the Web