The woman who allegedly lured hundreds of unsuspecting young people into nursing programmes she created was yesterday released on $100,000 bail pending further investigations, even as many students await refunds.
Yesterday some of the students who had converged outside the Brickdam Police Station expressed dissatisfaction with this latest move and are convinced that this is the last they will see of Nandranie Kissoon. Kissoon was arrested on Tuesday night after students exposed the alleged fraud operated under cover of the Inter-American Nursing School to Minister of Health Dr. Leslie Ramsammy.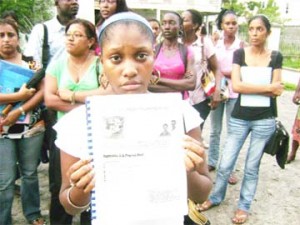 The woman also used the names Nalini Budram, Nikita Basdeo, Donna Gomes, Nanda Kissoon, Nandranie Drepaul, Bibi and Ms. Singh.
When Stabroek News arrived at the station yesterday shortly before 5 pm, about 25 students were waiting for Kissoon to come out so that they could discuss the refunding of the money she had taken from them.
Around the Web