A businessman yesterday pleaded not guilty to the charges of unlawful possession of a firearm and ammunition when he appeared before Acting Chief Magistrate Melissa Robertson.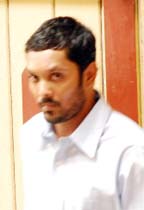 It was alleged that on January 25 at Mabura, 30-year-old Faiaz Ali of 17 Vergenoegen had in his possession one 1.9 mm pistol and 16 live rounds of ammunition.
His lawyer Vic Puran told the court that the firearm and ammunition were not found in his possession but in his vehicle which had six other persons. Puran further stated that he didn't understand why the other men were not held for questioning and charged as well. I think that the police only held my client because he is the owner of the vehicle, but what about the other occupants of that vehicle.
Puran made an application for bail in a reasonable sum stating that if bail was not granted then his client's businesses would suffer. He also added that his client was not a flight risk and he will see personally that he returns to court since he knows Ali well
.
He was refused bail and his matter was transferred to the Christiansburg Magistrate's Court for February 3.
Around the Web