Fitzgerald Alexander Griffith, the former Executive Chairman of the Guyana National Trading Corporation (GNTC) died on Thursday at the Georgetown Hospital at the age of 84.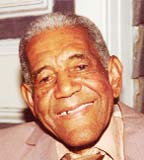 In devoting many years of his life to the private and public sectors, Griffith through dedication, hard work, commitment and a desire to achieve, climbed the ladder to the top, a statement from Laparkan Executive Director, Vibert Parvatan said.
Griffith's knowledge of the Shipping Industry, which he represented internationally, was well known and acknowledged. "He was regarded by his managerial colleagues and general staff at GNTC as an approachable person who was open minded, fun loving, kind, caring and considerate. He was also seen as a disciplinarian who enforced rules and paid a personal leading role in the training and development of staff", the statement added.
Around the Web