An ex-police officer who allegedly kidnapped a 13-year-old girl was remanded to prison yesterday when he appeared before Acting Chief Magistrate Melissa Robertson.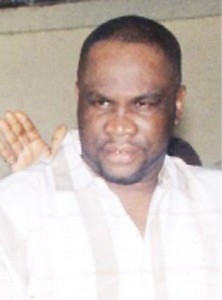 Shawn Hinds, 41, of 46 Joseph Pollydore Street, Lodge pleaded not guilty to the charge of abduction.
It is alleged that on January 27, at Freeman Street, East La Penitence, Hinds abducted a 13-year-old girl with intent to secretly confine her.
However, attorney Glen Hanoman, representing Hinds in association with Vic Puran, stated that the classification of abduction that his client had been charged with was a bailable offence.
He said when his client heard that he had been implicated in the matter, he immediately reported to the East La Penitence Police Station.
Hanoman noted that Hinds had fully cooperated and had given the police a statement which showed that he had an "iron-clad alibi" for his whereabouts when the incident occurred. Hanoman also said that there had been some "prejudicial" reports by the media stating that Hinds had kidnapped the girl to prevent his friend from being charged with rape. Hanoman then noted that no such charge had been filed against his client or any other person who might have been implicated in the matter.
Hanoman said further that his client was no stranger to the court since he had been there for other matters and had been acquitted. The defence attorney then applied for bail.
However, Prosecutor Denise Griffith objected to the bail application stating that though the offence was a bailable one, there was a possibility that if Hinds were granted bail he might interfere with the teenage girl. She said that on the day in question the teenager was walking on Freeman Street when Hinds abducted her and took her to a place in Timehri, East Bank Demerara, then to another place on the East Coast Demerara where he handed her over to another man "where other things took place that I wish not to mention at this point". Griffith also stated that other related charges are likely to be brought against Hinds and the other person implicated in the matter.
Hanoman then requested that the court be non-prejudicial about what the prosecution had said since the prosecution was asking the court to view his client as a guilty person.
He said that was not permitted by the law and reiterated that his client had voluntarily presented himself to the police in the matter.
However, the magistrate ordered that Hinds be remanded to prison and transferred the case to Court Five for February 6.
Around the Web