The World Wildlife Fund (WWF)-Guianas yesterday signed a Grant Agreement valued at $23.8M with the Guyana Forestry Commission (GFC), in support of government's bid to quantify the carbon storage capacity in Guyana's forests.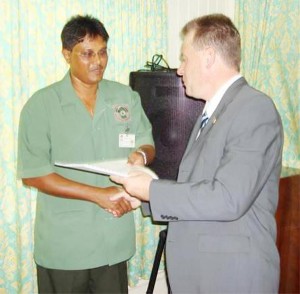 The signing ceremony took place in the GFC's Boardroom.  The grant for the project is provided under the WWF Guianas Sustainable Natural Resources Manage-ment Project 2007–2011 and is funded by the Dutch Global Environmental Facilities (DGIS), French Global Environmental Fund (FFEM) and WWF-Netherlands.
According to a press release from the WWF, the project arising out of the Agreement will help to increase awareness and understanding internationally of the role of intact tropical forests in the global fight against climate change. The release stated that it will also help to put Guyana in an "unassailable position" with policymakers to receive incentives for the ecosystem services Guyana's forests can provide if left intact.
WWF said that the research will be conducted by Dr. Denis Alder and Dr. Marijke van Kuijk and the sustainability of the project is ensured by a number of measures including the establishment of a REDD (Reducing Emissions from Deforestation and Forest Degradation) Secretariat which will facilitate the execution of activities in support of climate change mitigation efforts.
The project will run for one year and three main outputs are expected: development of a method for measuring and monitoring carbon stock at the national level; implementation of the methodology; and increased capacity for assessing Guyana's forest carbon stock.
The WWF said that the government has been consistent with regards to its position on forest conservation and its value to the global community on carbon storage. "Its unambiguous view is that Guyana should be adequately compensated for the contributions it has been making towards protecting the global environment from excessive carbon emission and the problem of climate change, caused primarily by developed countries, by protecting large areas of its tropical forests", the release said.
It noted that standing or intact forests are potentially the cheapest source of carbon credits on the market, when the cost of restoring forests after deforestation and degradation is considered. "However, there is presently no mechanism in place to reward countries with intact forests for preserving their forests as a carbon storage facility. Mechanisms that provide an incentive for keeping forests intact allows for extensive increases in the cost of achieving carbon reduction targets by 2012. Tropical forests not only have more species than any other ecosystem, but they also play a key role in the global carbon cycle. These ecosystems store and recycle vast quantities of carbon, heat, and water, so relatively small changes will affect the climate of the planet as a whole", the conservation body asserted.
It stated further that a global carbon trading market as part of a plan to tackle climate change was recently called for by the European Commission. The Commission, which draws up EU legislation, wants poorer developing countries to also put in place plans to cut greenhouse gases. This move if adopted will present a further challenge to poor countries. In Guyana's case, preserving adequate sections of rainforest may assist the country in this regard, the WWF declared.
Meantime, speaking at the ceremony, Minister of Agriculture Robert Persaud said that while to date a national approach to assess forest carbon stock has not been developed for Guyana, several aspects have been addressed to some extent, particularly in the assessment of change in land cover through remote sensing imagery analyses and forest inventory assessment.  Additionally, he said, some work has begun in terms of biomass estimation in various soil types though a methodological assessment model still needs to be developed to assess forest carbon stock at the national level, building on the resources and results of steps already initiated.
According to a copy of his speech, Persaud noted that developing and implementing such a methodology will provide the catalyst in support of Guyana's efforts to maintain its standing forests.
He declared that the main outputs would be enhanced capacity at the national, regional and community levels to conduct continuous forest carbon stock assessment in Guyana; the creation of a formal structure and framework, through the development of the methodology, to conduct national assessment and monitoring of forest carbon stock and enabling the generation of a continuously updated information database on forest carbon storage capacities which would be the basis for accessing global carbon financing mechanisms, negotiating performance based payments and positive incentives. He noted that achieving those outputs would be costly.
Yesterday's signing is the third grant agreement inked since last Friday, amounting to over $70M, between the WWF and various other agencies including the National Parks Commission and the Environmental Protection Agency.
Around the Web