Saluted as a fearless jurist and a crusader for justice, former Attorney General Doodnauth Singh took his final bow in the National Assembly last Thursday.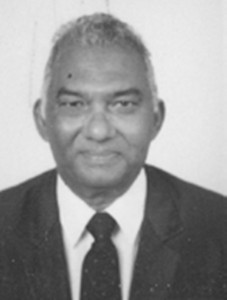 Retiring from legal practice after 50 years, Singh submitted a resignation from the ministerial post, which took effect at the end of last month. "It was a privilege" he told members of the National Assembly in his final address, "I can't say it has always been a pleasure."
Speaker of the National Assembly Ralph Ramkarran described Singh as a man "always on the side of justice" and noted his accomplishments as an attorney across the Caribbean. He praised him for his fearless representation of clients in an era when it invited unwelcome sanctions. "It is a fearlessness that has marked his character, then and now," Ramkarran remarked, while noting that their first encounter was in 1973, when they represented 17 people, most of them political activists, charged with various criminal offences before the elections of that year. Among them was current PPP/C MP Indra Chandarpal. Although the lawyers appealed, since the defendants were refused bail for offences that carried no imprisonment, it was dismissed.
PPP/C MP Clement Rohee said Singh would be greatly missed and he noted that the Assembly had benefited from his erudite contributions, while PNCR-1G leader Robert Corbin wished him well in his future pursuits. Corbin noted Singh's contributions to parliament, the legal profession and the country as a whole, adding that he had always respected their ability to exchange views despite being on different sides of the fence.
Meanwhile, Singh used the occasion to urge the re-examination of the procedures and conduct of parliamentary debates. Recalling a recent motion calling for live broadcast of parliamentary sittings, Singh conjectured that if a poll were to be taken, it was likely to find that very few people would be interested in listening to debates. He said it was "unfortunate" and suggested that when the Standing Orders are reviewed,  the Assembly considers limiting the principal speaker to no more than half an hour to make a presentation, with no more than one extension of fifteen minutes maximum. He added that additional speakers should be restricted to half an hour. "Then perhaps the populace will listen to it on the radio or watch it on TV," he said.
Singh also said he was sometimes disappointed that the people's business was not always debated in a "civilised and decent" atmosphere. He noted that while heckling is an art, it is not for transformation of the National Assembly into a fish market. "People must be conscious of what this National Assembly is," he declared, "It's the highest court of the land and it's where the people's business is to be debated."
Around the Web